Free Infographic:
The Business Lead-Generation Playbook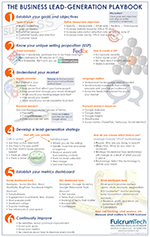 Are you ready to implement a proven system for lead generation for your business? FulcrumTech's comprehensive infographic lays out our proprietary, 6-step process for developing and implementing the right lead-generation strategy for you. Based upon a powerful seminar delivered by FulcrumTech's president and CEO, Mitch Lapides, you'll understand an approach that can help you deliver double or triple-digit improvements in your traffic and lead flow.

Download the Business Lead-Generation Playbook infographic to:
Leverage for your own lead-generation system
Get FulcrumTech's bulleted guidance for each step of the Playbook
Uncover FulcrumTech's list of over 30 lead generation tactics you should consider for your lead generation strategy
See several key metrics and statistics that you can use to justify some of the components of your lead generation system.
Tweet this Infographic
Share on Facebook
Share on LinkedIn