Apple Email Review: A Is for Apple – But Does This Email Get an A?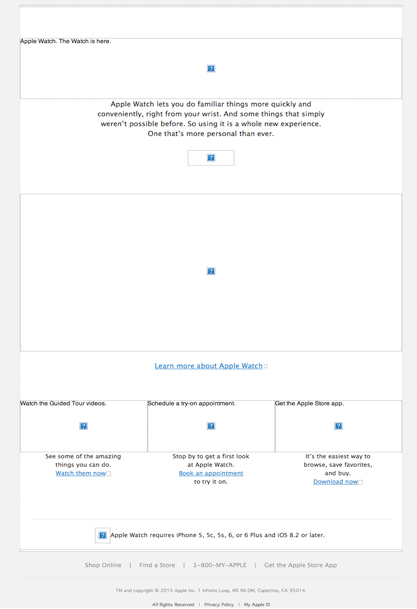 Preview without Images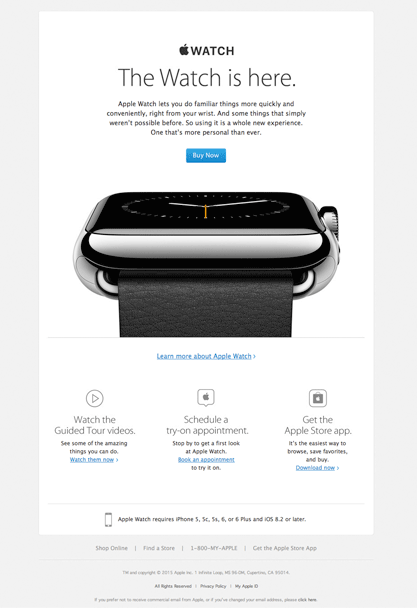 Preview with Images
Apple Email Grade: [A]
| | |
| --- | --- |
| Subject Line | 5 |
| Preview Pane | 4 |
| Eye Path | 5 |
| Clarity of Message | 5 |
| Call to Action | 5 |
| Offer | 5 |
| Credibility | 5 |
| Sense of Urgency | 5 |
June 30, 2015 –
Organization Overview
Headquartered in Cupertino, CA, Apple Inc. is a multinational technology company that designs, manufactures, and sells a vast variety of personal computers, mobile communication and media devices, portable digital music players, computer software, and online services. Apple's primary products include the Mac line of computers, the iPod, iPhone, iPad, Mac App Store, iTunes, iCloud, Safari web browser, as well as OS X and iOS operating systems. Founded in 1976, Apple has grown a huge and loyal brand following, becoming the first U.S. company valued at over $700 billion in 2014.
Subject Line Simply Says It All
"Apple Watch is here." That's the subject line in this promotional email sent to an Apple customer. Though it's quite simple, the subject line effectively sums up the email message. Most subject lines don't use punctuation, but the period in this case fits with Apple's characteristically bold advertising.
Similar to the introduction of most Apple products, the company had successfully promoted the pending release of their newest tech toy with plenty of advertising and press coverage. As a result, Apple fans have been anticipating the Apple Watch's release on the market. This subject line succinctly lets them know the watch is now available for purchase. Recipients also know that they'll find details about the watch and how to buy one by opening the email.
Missed Opportunity in the Preview Pane Without Images
In the preview pane without images, however, Apple missed an opportunity by not using alternative text in the main image box. More important, the primary call to action – "Buy Now" – has been omitted.
But is the call to action necessary in this email? Maybe not, especially given the excitement and anticipation that has been building with this product release. Even if the images didn't automatically download for recipients, potential Apple Watch prospects would likely make an effort to see more.
Clean Eye Path & Clear Email Message Support the Conversion
The eye path in this email is clean, clear, and supports the conversion. The eye is drawn to the centered product shot of an Apple Watch. This spectacular visual presentation of the watch (a great example of "product porn") really makes Apple's typical target techie customer want one instantly.
The email message is also quite clear. A few sentences placed above the product shot describe why you'd want to own an Apple Watch. In a promotional email for a company with less brand identity than Apple, we'd typically recommend using a few short bullet points that highlight product benefits. But this email message is consistent with the Apple advertising style, which obviously works for this brand.
The bright blue "Buy Now" call-to-action button – strategically centered above the product shot – is prominent and in the perfect spot for motivated customers who are ready to convert. And for those prospects who want to learn more about the Apple Watch before purchasing, there are additional links including product videos and the opportunity to schedule a "try-on appointment."
High Credibility, Plus Strong Offer & Sense of Urgency
The offer in this email is essentially the opportunity to be among the first to own this new piece of technology. Apple doesn't offer discounts or have sales on new products: Because of both brand awareness and loyalty among avid Apple customers, the company doesn't need to.
This email is consistent with Apple's advertising and has high credibility, thanks to Apple's iconic brand name. The sense of urgency is strong, as this email message has been preceded by a huge media buildup about the Apple Watch. This email lets Apple customers know that the Apple Watch is officially available for purchase. And for the many loyal Apple fans, it's just the right email message to get them to say, "I want one now!"
Disclaimer: FulcrumTech does not have access to the performance data relating to this promotional email, so any tests performed on this email can't be reflected in FulcrumTech's commentary.