Email Authentication – Key to Getting Your Emails Delivered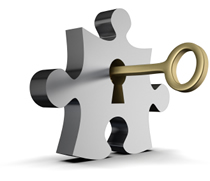 Updated February 2018
What's the key to ensuring that your emails get delivered into your subscribers' inboxes? Email authentication. In this article, we focus on the major email authentication standards—Sender Policy Framework (SPF), Sender ID, and DomainKeys Identified Mail (DKIM), and Domain Message Authentication Reporting & Conformance (DMARC). You'll find out how they work and why they are an essential for getting optimal performance results from all your email campaigns.
When It Comes to Email, What Does "Authenticate" Mean?
If an email says it's from a certain organization, how can you be sure it's actually from that organization (i.e, not from someone else who doesn't have permission for sending emails on behalf of that organization)? That's basically what email authentication is all about—verifying that the domain used in the From address is under the control of the sender.
By employing email authentication protocols, Internet service providers (ISPs) help to protect your subscribers from phishing scams and spammers. Phishing scams involve sending email on behalf of someone without their permission to fool the recipients into giving out personal information (e.g., passwords, bank account and credit card numbers) with the intent of stealing money or spreading malicious software. And, it can be easy to spoof email because simply adding a well-known brand's name and logo often will fool many email users.
When an ISP can't authenticate a sender, the sender may face extra scrutiny that could lead to filtering. That means if your company has an authentication problem, your emails won't make it into your subscribers' inboxes. Instead, they will be identified as spam and likely land in the junk folders. In this way, email authentication is an important tool for marketers and a must for all legitimate organizations today because it directly impacts email deliverability.
How to Authenticate Email—Email Authentication Methods That Can Help Your Marketing Messages Reach Subscribers' Inboxes
The following are the primary authentication methods used today. These authentication standards were designed to supplement the basic protocol used to send email—Simple Mail Transfer Protocol (SMTP)—because SMTP doesn't have any authentication mechanisms.
Make Email Authentication Part of Your Email-Marketing Best Practices
Managing your authentication affects how your company's emails are displayed in different email clients. If you haven't authorized an email service provider (ESP) to send on behalf of your company, most major email clients will flag your emails in the From line as coming from a different server, which in turn, will cause the emails to be blocked or your recipients to think they're getting spam.
In Outlook 2016, for example, if you haven't authorized your ESP to send emails on behalf of your company, your email will display in the recipient's inbox as being "sent by" someone else (e.g., the ESP's mail server). Similarly, Outlook.com uses the phrase "on behalf of" and Gmail uses "via" to indicate that an email's sending domain hasn't been authenticated.
To get the best email deliverability rates, you should be implementing every email authentication standard available. Keep in mind that not all ISPs use the same email authentication tools.
If you're looking for ways to improve your email deliverability – including evaluating and implementing email authentication standards – the experts at FulcrumTech can help. Email or give us a call at 215-489-9336 and get started today.