Etsy Promotional Email: Misleading Subject Line Gets the Open, But Disappoints Recipient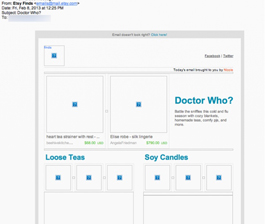 Preview without Images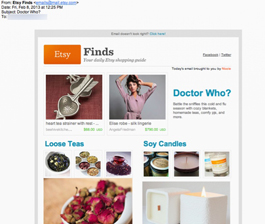 Preview with Images
Etsy Email Grade: C
| | |
| --- | --- |
| Subject Line | 2 |
| Preview Pane | 3 |
| Eye Path | 3 |
| Clarity of Message | 2 |
| Call to Action | 3 |
| Offer | 3 |
| Credibility | 5 |
| Sense of Urgency | 1 |
May 3, 2013 —
Company Overview
Etsy (http://www.etsy.com/) is an online marketplace where people can buy and sell a wide variety of unique items, including vintage and handmade products, as well as the supplies to make them. Rob Kalin conceived the idea for Etsy and teamed up with Chris Maguire and Ham Schoppik to design, code, and launch the website in 2005. The company is headquartered in Brooklyn, NY, with offices in Hudson, NY, San Francisco, and Berlin. With more than 25 million members, Etsy totaled over $895 million in merchandise sales in 2012.
Deceptive Subject Line Disappoints
"Doctor Who?" That was the subject line of this promotional email sent to an Etsy member. As a big fan of the British science fiction television show "Dr. Who," the recipient eagerly opened the email, expecting to see products associated with the popular BBC series. Instead, the top-promoted products were pajamas, blankets, and homemade teas to help "battle the sniffles, the cold, and flu season." Needless to say, the recipient — who had in the past searched for and purchased items related to Dr. Who at Etsy — was both disappointed and annoyed by the deceptive subject line.
Most likely, this recipient's preferences were not tracked, and the subject line was simply intended to be clever. But even for die-hard Etsy enthusiasts, this misleading subject line could result in recipients having a negative opinion of the company's creative tactics. This is definitely a subject line that should be tested to see its impact on not only opens, but also click-through and conversion rates.

Great Product Photos, But Eye Path Lacks Focus
Etsy sends its members daily promotional emails that feature a large number of products. The photos are high quality; however, there are so many of them that recipients must scroll down quite far to get to the end of each email. The calls to action are implied — recipients must click on the products to learn more and order. This creates an eye path that is long, a bit cluttered, and without any real focus.
Alternative text is used effectively in the preview pane without images to adequately identify product visuals. But the email is so long and lacking in focus that whether the preview pane will motivate people to download the images is questionable. This is an area where determining member preferences and testing may improve campaign results. For example, Etsy could segment their email list based on product preferences, giving their members the opportunity to receive a shorter, weekly email versus long, daily emails.

Etsy Has High Credibility But May Be Missing an Opportunity to Drive More Conversions
For some individual products, the offers are clear with prices listed, while others are photos of broader product categories. There is no sense of urgency in the Etsy daily emails, and we see this as a potential missed opportunity. Offering specific featured products at a reduced price for a limited time, for example, may provide that added incentive to help drive more conversions.
With statistics such as 1 million Facebook likes, 1.8 million Twitter followers, and over 1.5 billion monthly page visits, Etsy has achieved high credibility and success with their marketing strategy.
Disclaimer: FulcrumTech does not have access to the performance data relating to this promotional email, so any tests performed on this email can't be reflected in FulcrumTech's commentary.