Panera Bread Birthday Email Review: Is This Offer Half-Baked?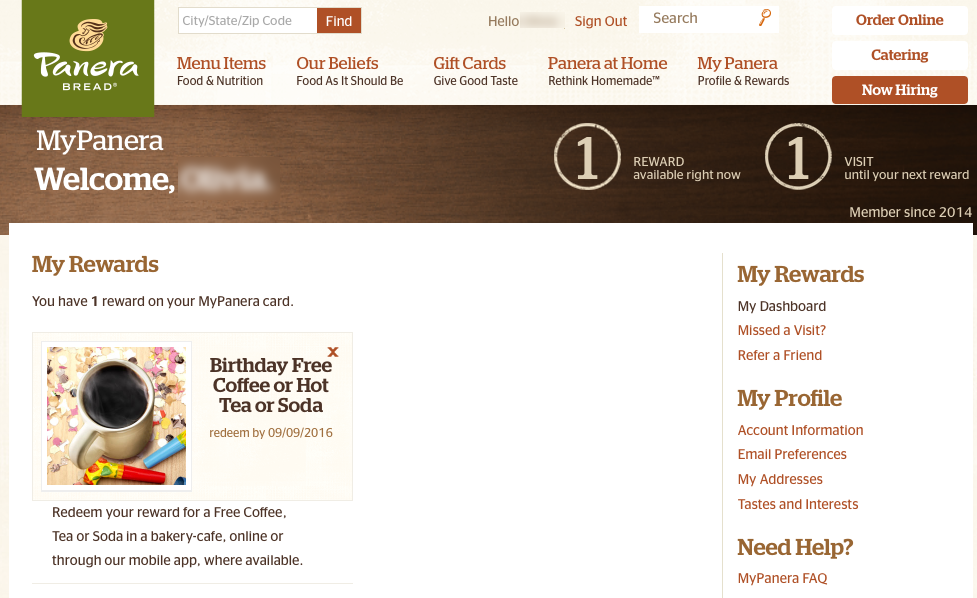 Panera Bread Landing Page
Panera Bread Email Grade [B-]
| | |
| --- | --- |
| Subject Line | 4 |
| Preview Pane | 2 |
| Eye Path | 5 |
| Clarity of Message | 5 |
| Call to Action | 5 |
| Offer | 2 |
| Credibility* | -- |
| Sense of Urgency* | -- |
Email grades are based on a 5-point scale: A = 5, B = 4, C = 3, D = 2, F = 1
*Not applicable.
September 8, 2016 –
Organization Overview
Panera Bread is a chain of bakery-cafés with nearly 2,000 restaurants in 46 states, the District of Columbia, and Ontario, Canada. Founded in 1981 and formerly known as Au Bon Pain Company, the bakery-café's name was changed to Panera Bread in August 1998. Panera Bread offers freshly baked goods (including bagels, muffins, breads, scones, and cookies), made-to-order sandwiches, salads, soups, pasta dishes, and custom-roasted coffees and café beverages.
Subject Line Is Relevant, Personalized, and Builds Excitement
"Olivia, It's Your Special Day…"
This is the subject line of a birthday email sent to a Panera Bread customer who is enrolled in MyPanera, a rewards program that gives deals and discounts to customers on goods sold at the company's bakery-cafés. Sent three days before the recipient's birthday, not only is this subject line relevant, but it's also personalized. Plus, it succeeds in building excitement and anticipation for the recipient, who knows that this email likely contains a coupon for a special treat. Ending the subject line with an exclamation mark (rather than an ellipsis), however, would make it easier to read in the inbox.
Preview Pane Lacks a Call to Action
In the preview pane without images, recipients can see that the message is from Panera Bread. They also can assume that it contains a birthday gift, thanks to the line: "Here's a special surprise for your big day." But unless recipients download images, Panera Bread won't get the click because no call to action is included.
Strong Eye Path, Clear Message, and Effective Call to Action
The eye path in this birthday email is strong, leading recipients' attention to the prominent and centered call-to-action button. The email message is clear, user-centric, and brimming with personality. The message starts with a great headline: "We're celebrating you." Then, the copy continues to capitalize on piquing curiosity, informing the recipient that there's a "special surprise" loaded on her MyPanera rewards card.
The call-to-action copy, "View My Surprises," continues to build curiosity and drive clicks. If the button were a contrasting color, however, it would stand out even more.
Birthday Offer Disappoints
So, with high expectations of a great birthday surprise, the recipient clicked through. But she was quite disappointed by the special offer revealed on the landing page: a free coffee, hot tea, or soda.
The main purpose of birthday emails is to build and nurture customer relationships. In this case, the disappointment in the surprise hurt the relationship and even motivated the recipient to share the story with other people. What kind of birthday treat could help meet the excitement and expectations created in the birthday email? Considering all of the delicious baked goods at Panera Bread, a truly special treat (e.g., a prepackaged birthday cookie) likely would be a more gratifying "birthday surprise" for many rewards members.
Overall, Panera Bread successfully uses its MyPanera program and associated emails to make customers feel valued, as well as to drive sales and revenue. This birthday email does a great job of building excitement. Following through with an equally exciting birthday reward would go a long way in making a more favorable impression on customers, as well as giving them an added incentive to visit a Panera Bread to claim their reward and perhaps buy other items, too.
Disclaimer: FulcrumTech does not have access to the performance data relating to this promotional email, so any tests performed on this email can't be reflected in FulcrumTech's commentary.