VetDepot Email Review: Do emojis and cute pets put this email on the right track to driving conversions?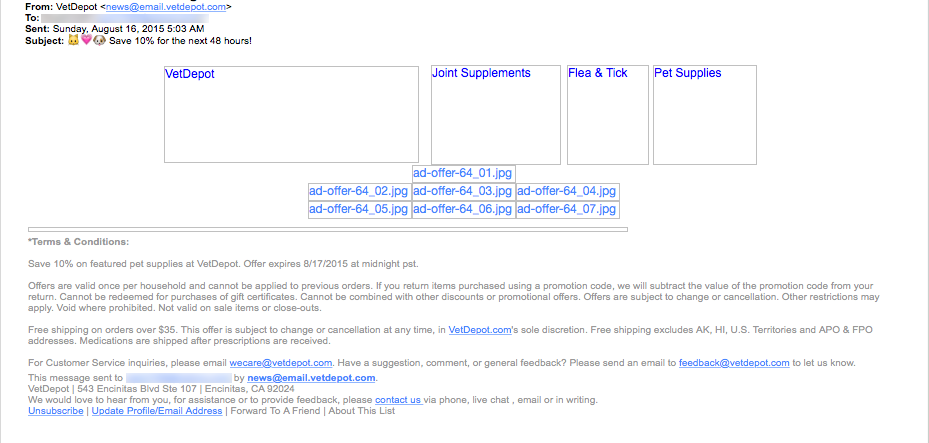 Preview without Images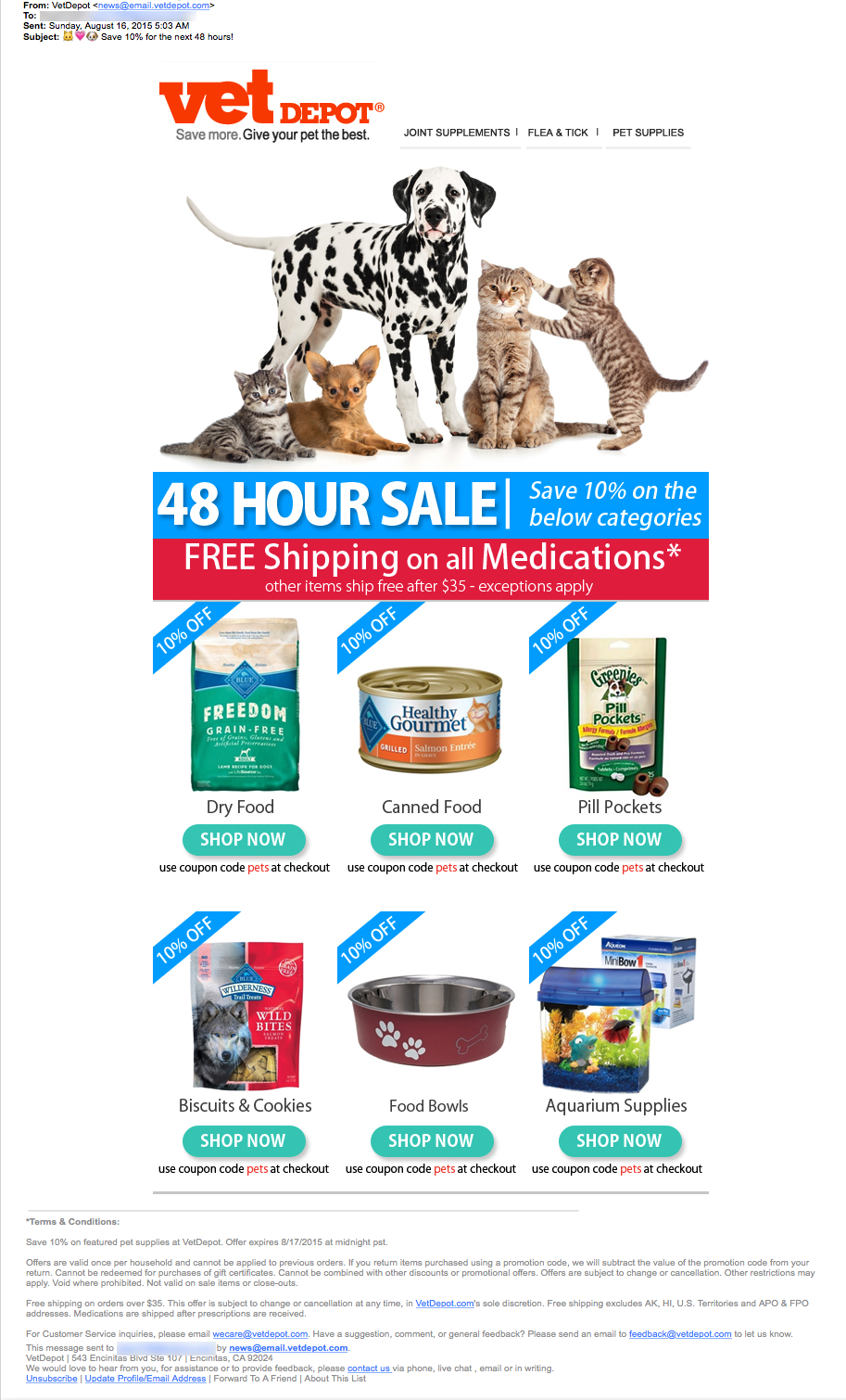 Preview with Images
VetDepot Email Grade: [B]
| | |
| --- | --- |
| Subject Line | 5 |
| Preview Pane | 1 |
| Eye Path | 3 |
| Clarity of Message | 5 |
| Call to Action | 4 |
| Offer | 5 |
| Credibility | 4 |
| Sense of Urgency | 5 |
Email grades are based on a 5-point scale: A = 5, B = 4, C = 3, D = 2, F = 1
October 6, 2015 –
Organization Overview
Founded in 2005 and based in Encinitas, CA, VetDepot is an online supplier of discount veterinary medications, vaccines, nutritional supplements, pet food, and other pet supplies. Products are available for a variety of animals, including dogs, cats, exotics pets, fish, birds, horses, and cattle. VetDepot sells directly to pet owners, veterinarians, and animal shelters. According to its website, VetDepot focuses on making "ordering your pet meds easy and convenient and to provide the lowest prices and best service available."
Strong Subject Line but Weak Preview Pane
"??? Save 10% for the next 48 hours!" This is the subject line of a promotional email sent to a VetDepot customer who opted in to receive emails from the company. This is a strong subject line that includes cute emojis, as well as the email's incentive offer and sense of urgency, to help drive open rates.
Thanks to the aptly chosen emojis (faces of a cat and a dog flanking a pink heart), this subject line stood out in the recipient's inbox among a field of predominately symbol-free subject lines. As we discussed in a previous article, symbols strategically used in subject lines can significantly boost response rates. However, it's important to test how your specific target audience responds to the use of symbols, as well as how the symbols render on different devices and across various email clients.
Preview Pane Without Images Scores Low
The preview pane without images scored low with the FulcrumTech review panel. None of the design elements in this email had been sized, so the email shrinks when opened. Alternative text was used for the header, and includes "VetDepot," "Joint Supplements," Flea & Tick," and "Pet Supplies." But there's nothing there to entice recipients to download the images. All of the other image boxes appear spammy because they feature copy that includes "ad-offer" followed by a photo identification number. In addition, there are no clickable calls to action provided in the preview pane without images.
Eye Path Starts Strong but Could Use Some Streamlining
The eye path for this email starts strongly, with the VetDepot logo, a photograph of adorable pets, and a bold, red-white-and-blue banner that includes the email offer. However, some streamlining could help make the overall eye path much stronger. For example, the design appears too busy, thanks to the repetitive wallpaper that includes six "10% OFF" banners and six "SHOP NOW" calls to action. One larger call-to-action button would not only improve the eye path, but help make both the call to action and coupon code more prominent.
Good Offer and High Credibility
This email's message is clear and the offer is good: 10% off pet food and supplies, plus free shipping on all medications. The sense of urgency (a 48-hour sale) is used effectively to help drive opens, clicks, and conversions — both in the subject line and in the can't-be-missed, bright, red-white-and-blue banner.
Overall, this is a highly credible promotional email, especially considering the company's target audience that primarily consists of pet owners and professionals who work with pets. The combination of professional product images plus cute animals — emojis and photos of real puppies and kittens — contributes to building a positive impression of the VetDepot brand.
Disclaimer: FulcrumTech does not have access to the performance data relating to this promotional email, so any tests performed on this email can't be reflected in FulcrumTech's commentary.