In This Issue

Feature Article
Measuring Email ROI: No Longer a "Should Do" But a "Must Do"

Mitch's Blog
Do You Know Your Email-Marketing Number?

FulcrumTech Top Reads
March's List of Great Links



Notes from Mitch

Learn about why you can no longer avoid measuring email return on investment (ROI), plus get some great tips about how to improve your email ROI, in my article recently published by iMedia Connection. Plus, have you checked out our new ROI Goalsetter calculator and planning tool yet? For a limited time, you can try it for free. Click here and enter the promo code FreeROI2012 to begin your free trial today!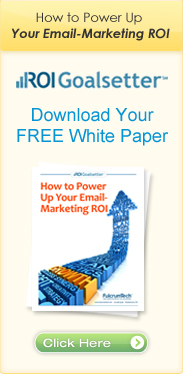 About FulcrumTech

FulcrumTech's experts have 20 years of experience in helping companies grow using online technologies, and we can help you build a complete email & Web interactive marketing program to yield incredible results!


| | |
| --- | --- |
| | Grow your prospect base |
| | Increase your sales |
| | Get a measurable improvement in ROI |
Contact us today to get started.
Proud Partner Of





Feature Article:




ING — a provider of retirement and insurance services — is currently running a great marketing and advertising campaign to get consumers to know the level of savings they need to retire. In one of their television ads, for example, a guy asks his neighbor what his number is. The neighbor responds, apprehensively, with "a gazillion." The point of the commercial is that if you don't know your goal, you'll never reach it because you don't have a plan. It's the same with email marketing. Here I provide a quick way to think through the process to find your email-marketing number.





See FulcrumTech experts' reviews of promotional emails received from Honda and other companies in our new website feature — "Get the Click."

Click here for all the latest "Get the Click" reviews.

FulcrumTech Top Reads:

Here are some recent articles about email marketing you may have missed, but shouldn't!
Interactive Strategy:
Integrating Email Marketing for Small Businesses
Interactive Tips:
Top Three Tips to Sweeten Email Responses