Online Advertising Campaign Yields 58% Conversion Rate
Client Overview
F.A. Davis Company is a leading healthcare publishing firm that publishes medical, nursing, physical therapy and other health profession texts, references, resources and educational software.
Business Challenge
F.A. Davis sought to increase membership sign up to its recently launched social networking Web site for physical therapy professionals – DavisPTnetwork.
Solution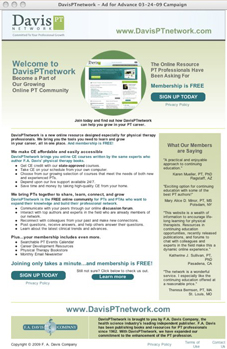 FulcrumTech created an online advertising campaign that included the following elements:
An engaging online ad that had a call to action with a click through to a landing page to learn more.
An optimized landing page that had a singular goal of converting qualified visitors to members of the new Web site. The landing page incorporated the following best practices:

An effective headline
Compelling and clear call-to-action
Well-articulated benefits
Content that helps build trust

Read more about strategies and tips for optimizing landing pages here on our site.
Results
This email marketing campaign resulted in a 58% conversion rate. In other words, 58% of the prospects that clicked through to the landing page optimized by FulcrumTech signed up to become members of the DavisPTnetwork. By all measures, this level of conversion is very significant and, hence, was extremely successful for the client.
[ContactUs]