It's Time to Take Your Email Marketing to the Next Level
With Maropost's platform, FulcrumTech can help you build a comprehensive set of campaigns — from transactional emails to fully automated nurturing campaigns to multichannel marketing, including email, SMS, landing pages, and social media campaigns. Plus, with Maropost's analytics and reporting, we can accurately identify your target audiences' interests and use that information to send the right email message to the right inbox at the right time.
Get the Most Out of Your Email Marketing With a Certified Reseller
We're excited about the powerful capabilities of Maropost's platform and what it can do for our clients. And because we are a certified reseller of Maropost, we can show you the ropes; we'll even help you set up, manage, and deploy your email campaigns. Contact us to find out more about Maropost and how the FulcrumTech team can help you achieve your email-marketing goals with the Maropost platform.
Easily Create the Campaigns You Need
Thanks to Maropost's user-friendly drag-and-drop tools, you can quickly create text or sophisticated HTML email campaigns. And you can rely on Maropost's content creation and campaign scheduling solutions to make your triggered campaigns a reality (whether you are in the market for a basic autoresponder email or even complex triggered campaigns).
Quickly Build Complex Triggered Campaigns (without sweating)
When done right, email nurturing (or drip) campaigns build customer relationships and loyalty, and increase sales revenue.
Maropost's easy-to-use drag-and-drop workflow tool lets you build complex, triggered email campaigns with multiple variables. And you can lay out and bring to life your customer journey, no matter how you define it.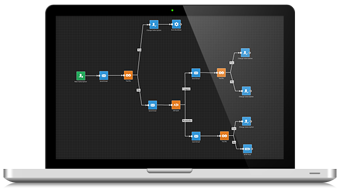 With the drag-and-drop interface, you can easily configure a series of emails that get delivered exactly as many days apart as you want. Then, enhance your customer's journey by triggering email messages based on whether someone opened or clicked on a previously sent email, or showed any of a variety of other behaviors.
Continually Improve Your Email Results With Maropost's Testing Functionality
Luckily for us (at FulcrumTech, we love A/B split tests), testing is a breeze with Maropost. You just don't see this sort of easy campaign setup with other email service providers.
Maropost's A/B split testing functionality gives you real-time insight into campaign performance and allows you to easily test such factors as subject lines, calls to action, and dynamic content. By taking advantage of this feature, you'll be able to continually achieve steady improvements in your email-marketing campaigns and optimize your return on investment.
Maropost Offers a Multichannel Marketing Mix
Maropost's powerful, user-friendly, enterprise-level solution is especially suited for small- and medium-sized businesses that are looking for a more sophisticated email-marketing tool.
In response to its clients' marketing needs, Maropost has built a platform that offers outstanding multichannel capabilities. The following are examples of how Maropost makes it easy for you to integrate your email marketing with mobile, social, and web marketing.
Mobile Marketing
Create and send SMS messages and campaigns, as well as push messages, with Maropost's mobile solution.
Send mobile phone alerts, deals, or discounts to drive app usage and sales.
Use push messaging to help segment your list by capturing customer data, such as zip codes and mobile device types.
Optimize your email-marketing campaigns using responsive design that ensures your email message is displayed properly on mobile devices.
Test how well your campaigns render on various devices, including mobile, desktop, and webmail, using Maropost's on-demand tools.
Dig even deeper to find out how your campaigns are performing on different mobile devices.
Social Marketing
Monitor all social media mentions and tweets easily by viewing them in a single stream with Maropost.
Track and measure social metrics for customer engagement and response.
Customize your dashboard reports simply by dragging and dropping components.
Landing Pages
Create custom landing pages and response forms to deliver a personalized user experience.
Accurately attribute website traffic and conversions to email campaigns using Maropost's web-tracking tools.
Power your contact data–capture process by using Maropost's form builder to create contact forms that can be embedded in email campaigns or on websites. The forms are easily customized and use responsive design.
Capture customer preferences, satisfaction metrics, and surveys for lead generation. Because the captured information is integrated with the Maropost dashboard, you can follow up immediately by incorporating the responses into triggered campaigns.
Drive-Targeted Marketing With a Customizable Database
You can use Maropost's customizable database to store data from a variety of sources, such as customer relationship management, e-commerce, point of sales, or other applications. You can even build customized tables to segment and personalize one-to-one marketing campaigns.
If you have an e-commerce or retail business, Maropost's relational data lets you capture and store data from every one of your customer experiences. (For example, data from every online order or product category from which a subscriber has browsed or purchased is available for list segmentation and real-time messaging.)
Segment Your List for Optimal Engagement
Segmentation is a surefire method to ensure that your emails reach the most engaged subscribers on your list and boost your performance results.
You can use Maropost to create custom segments based on your subscribers' behavior. The types, amount, and complexity of the segments you can create are virtually unlimited — including subscriber location, level of engagement, product interest, and actions taken.
Prime CRM Integration
In addition, Maropost's open APIs and pre-built integrations with top CRMs (e.g. Salesforce.com, SAP, InfusionSoft, Netsuite, MicroSoft Dynamics, Oracle, and others) allow you to closely follow the customer journey from beginning to end. It also provides useful insight into trends and behaviors of your prospects and customers.
Maropost's Analytics & Reporting Tool Delivers Prompt Insight Into Marketing ROI
Our goal at FulcrumTech is to help clients get the best results from their email-marketing efforts. To accomplish that, we need rich analytics —and Maropost's exceptionally flexible reporting suite delivers just that. Not only does it provide access to the deep reporting data stores for monitoring deliverability, but it also provides the quick and critical feedback needed for optimizing the performance of your promotional, nurturing, and automated emails.
Here are a few of the outstanding benefits of Maropost's premium analytics and reporting tool:
Get timely insight into your email campaign performance, A/B split tests, and year-to-date performance results.
Customize a personalized dashboard with widgets that can be swapped in or out.
Export reports into .xls or .cvs.
Analyze send performance over time to promptly identify and respond to any problems.