The Basics of Email Drip Marketing Campaigns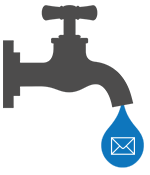 Updated July 2018
Are email drip campaigns an integral part of your organization's email-marketing efforts? If not, you're missing out on one of the most effective and cost-efficient ways to improve sales conversions by educating prospects and customers and connecting them to your organization's products/services. In this first article of a 2-part series, we explain the basics of email drip campaigns. In addition, we provide some drip campaign examples and tips to help you create effective drip emails to grow your business.
What Is Email Drip Marketing?
As its name implies, email drip marketing is a process of using a sequence of emails to "drip" relevant information and features to prospects and customers, and take them successfully through your organization's sales funnel. Also known as email drip campaigns, automated emails, lifecycle emails, trigger emails and marketing automations. The emails can be setup to send automated messages based on such "triggers" as a customer opting in to receive your emails, clicking through a call to action in an email, downloading a white paper, or subscribers making a purchase. The trigger can also be time-based (e.g., can be scheduled out once a day or once a week for a certain length of time).
For instance, when customers sign up to join your email list or receive your company's email newsletter, you immediately send them the first email of a welcome email-marketing campaign. Then, using email drip tactics, you can send them a second email a few days later, and a third email a week after that to help educate them about your products and services.
When to Use Drip Email Campaigns
Email drip marketing may also be known as an email nurturing campaign because through each "drip" of information you give, your business stays connected, builds trust, and nurtures the relationship with your prospects and customers. By using email-marketing automation to send your drip campaigns, you can nurture leads more efficiently, as well as keep your current customers engaged and happy.
From the type of content to the number and timing of emails sent, effective email drip-marketing campaigns can be customized and personalized in limitless ways to meet your organization's needs. The following are some examples of various types of email drip campaigns:
Educational Drip Campaigns—Also commonly referred to as "lead-nurturing email campaigns," this type of drip marketing helps provide prospects with the specific information that they need to know to convert.
Nurturing Drip Campaigns—This tactic is vital when trying to capture not only the customer's attention, but also build their interest in a product or service. Through email drip marketing, you can send potential leads different messages (tutorials, free trials, etc.) to help increase their engagement. Plus, you can use drip campaigns to send just the right amount of information to prospects and customers without bombarding them.
Welcome Drip Campaigns—Once new prospective customers have joined your email list, it's vital that you implement an effective welcome drip email campaign. In a welcome email study done by Experian, email open rates were higher when a welcome email is sent immediately (in "real time") as a triggered email, compared to sending the welcome email at a later date (e.g., through batch recurrent campaigns): Welcome emails sent in real time had an open rate of 88.3% versus 52.6% when sent later. Drip campaigns are an important way to help maintain high engagement with your newest customers. And, sending drip emails after customers initially sign up should provide them with more insight to your organization, as well as guide them to your most relevant content.
Promotional Drip Campaigns—This type of email drip marketing provides prospects and customers with a series of sales emails that include incentives to convert, such as coupons and special discounts.
Top-of-Mind Awareness Drip Campaigns—The purpose of this type of email drip marketing is to help keep prospects engaged and thinking about your organization throughout the conversion process.
Shopping Cart-Recovery Drip Campaigns—This type of email drip campaign is triggered when a prospective customer puts a product in an online shopping cart, but doesn't complete the purchase. These types of behavioral emails typically include reminders and, in some cases, additional incentives to help guide and encourage customers to take the actions needed to complete their transaction.
Confirmation/Renewal Drip Campaigns—Drip emails can also be used in confirmation and renewal campaigns to again keep the customer engaged with your organization. Confirmation/renewal drip campaigns also provide both a way to say thank you and demonstrate the legitimacy of your organization. They can also introduce the benefits and features of the products/services customers recently purchased, as well as how to connect and find out more about your company and its products through hyperlinks to your website. In addition, drip email campaigns are an effective way to remind and encourage customers to renew subscriptions when they are about to run out.
Reengagement Drip Campaigns—Marketers use this type of drip campaign strategy to reignite interest and engagement in their organization among prospects and customers who haven't interacted with an organization and its lifecycle emails for a certain period, such as six months. Drip emails are an outstanding way to not only pique customers' and prospects' interest in your products, but also help build a positive relationship with them now and in the future.
Training Drip Campaigns—Companies can use this type of drip campaign to show and tell newly based users through an email series how to use a product or service. For example, providing a six-week interactive course on how to effectively use your products is a great way to educate and help engage customers on a weekly basis. Through automated training drip emails, you can create a steady flow of relevant emails that deliver top quality content.
What Are the Benefits of Using Email Drip Campaigns?
More and more marketers today are realizing the myriad benefits of email drip marketing and marketing automation, including being able to:
Send the right/relevant messages and data at the right time in automated drip emails to effectively lead prospects to the next step in the conversion funnel
Create and qualify more leads for your organization's sales team with a sales email sequence
Grow sales and generate more revenue
Get customers ready for an upcoming event, launch of a new product, or opening of a new store with a series of automated emails
Build long-term customer retention and improve lead nurturing
Save time and valuable resources by automatically educating and nurturing leads throughout the sales cycle
Use an automated drip email sequence to help prospects get the most out of a free trial period and close the deal at the end of the trial
Provide more opportunities for prospects and customers to share feedback.
Examples of Successful Email Drip Campaigns
Here are some great drip-marketing examples that demonstrate the kind of success that can be achieved. Be sure to click on the links to learn more about the details of each email drip campaign.
Where to Start When Setting Up Email Drip Campaigns
Here are some important initial steps to keep in mind when creating an effective email drip campaign strategy:
Determine your goals and the outcomes you would like to see with the drip email campaign. FulcrumTech can work with you to help pinpoint what you want to accomplish with email drip marketing, whether it's increasing consumer engagement, nurturing new leads, or training a consumer on a new product. The more specific the goal, the easier it is to create customized and effective email drip campaigns.
Define your target demographic. This is a key step as your drip email campaign tactics will revolve around targeting certain niches of your customers and clients. Develop personas that describe the attributes, values, and goals of your typical customers. This is key to determining what types of content and offers they'll respond to and engage with best. Personalizing your email-marketing messages is also vital to effectively engaging your demographic and optimizing such performance metrics as email open rate, clicks, and conversions.
Create quality content. It's important that the content you create within each drip email is not only engaging, but also informative and worth the reader's time. Be sure the email is scannable, user-centric, and talks more about the benefits of your products and services rather than only the features. Keep your copy short and concise, providing links to your website and other content for additional information. And be sure to always include a powerful, well-designed call to action. For useful tips on how to develop quality email-marketing content, check out this previous FulcrumTech article: "7 Steps to Create a Compelling Content Marketing Strategy."
How can you ensure that you get the best results when you send drip email campaigns? We help answer that question in Part 2 of this article series, which covers drip email campaign best practices. From automation and personalized email campaigns to mobile optimization and more, these best practices are important to keep in mind when trying to effectively optimize your email-marketing strategy.
Does your organization need help developing and implementing an effective drip-marketing program? The results-driven experts at FulcrumTech have lots of experience in email automation and custom drip-marketing campaigns. To learn about the best email automation tools, email templates, pricing, and more, email us or give us a call at 215-489-9336 today!
---
Other Articles You Might Like