How to Use Triggered Emails to Drive Conversions
Automated, triggered emails are a great way to build subscriber engagement, while also increasing email performance and conversion rates. Once set up, triggered email campaigns easily and efficiently reach out and keep in touch with individual customers and prospects throughout the sales cycle. Is your organization using triggered emails effectively to maximize the return on investment (ROI) of your email-marketing efforts? Here we share some interesting industry statistics, examples of successful campaigns, as well as useful tips on how to get the most from your triggered emails.
What Is a Triggered Email?
A triggered email is a message that's automatically sent in response to a key action by a prospect or customer. When prospects sign up for an organization's email newsletter, for example, a welcome message is automatically sent to them. Thank-you emails, order confirmations, birthday wishes, and follow-ups to abandoned shopping carts are a few additional examples of automatic, triggered emails.
Triggered Emails Typically Outperform Other Types of Email Messages
Because they are based on a prospect or customer's action, triggered emails tend to outperform other types of email-marketing messages. For example, the marketing services firm Epsilon showed that triggered emails outperformed "Business As Usual" emails by 70.5% for open rates and by 101.8% for click-through rates in the fourth quarter of 2012. Despite these figures, triggered emails account for only about 5% of total email volume.
Evidence of Costly Gaps in Email-Marketing Programs
In a recent MarketingSherpa survey marketers were asked what type of triggered emails their organizations send. As the graph below shows, many companies aren't taking full advantage of the high performance rates of triggered emails. The most commonly used triggered emails include welcome, thank you, and transactional, such as order confirmations and bills. These results also indicate that there are potentially significant and costly gaps in organizations' email-marketing programs; for example, only 15% of respondents reported using reengagement emails and 9% shopping-cart abandonment emails.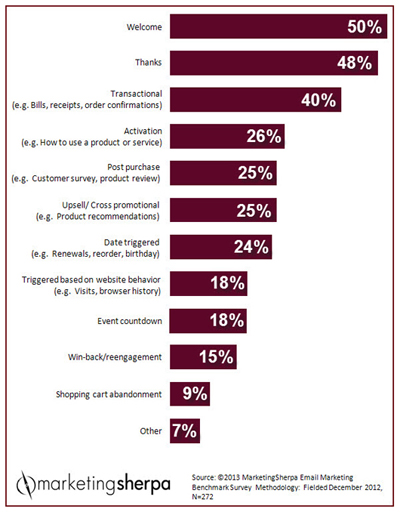 Abandoned Shopping Cart Trigger Email Programs Drive Conversions
As we emphasized in a recent FulcrumTech blog companies with shopping carts that aren't doing cart recovery are leaving real money on the table — most likely a lot of money. A good example of a successful abandoned shopping cart triggered email program was recently introduced by American Airlines. The program targets customers who, after logging on, place a flight in the shopping cart on the American Airlines' website without purchasing it. A personalized message is sent to those customers with the lowest and most flexible fare options relevant to the flight not purchased. Compared to standard-fare email campaigns, the triggered emails had 300% higher open rates, 200% higher click-through rates, and 400% higher conversion rates.
Tips for Getting the Most from Your Triggered Emails
In a previous NewsLever article, we shared five tips for creating effective automated drip campaigns. Here are four more ways to help you get the most from your triggered emails:
Segment your subscribers. There are a number of ways to segment your subscriber list for setting up triggered emails. For example, you can segment based on their purchasing or browsing behavior. You can also ask subscribers for relevant information about themselves by setting up an email preference center. Building trust with your subscribers is an important goal of your triggered-email campaigns and often starts in your welcome series. In this month's feature, we talk more about how to effectively use landing-page forms to build trust and collect relevant information.

A case study on Smart Furniture demonstrates how increased list segmentation — combined with the implementation of welcome, cart abandonment, and post-purchase triggered email campaigns — generated twice the revenue but required only half as many emails. The company developed smaller customer segments, such as high-end furniture buyers and small business customers purchasing office furniture, increasing the number of segments from five to 30. Compared to previous general email sends, the performance results included:

Welcome series: 311% increase in open rates and 327% increase in click-through rates
Post-purchase series: 284% increase in open rates and 295% increase in click-through rates
Cart-abandonment series: 41% open rate and a 56% click-through rate for those who opened the email.

Control the frequency. Be careful not to inundate subscribers with too many emails. When a company has automatic triggered emails set up, it becomes far too easy to lose track of how many emails each subscriber is receiving from you. Consider setting limits on how many emails are sent each week or month to individual email addresses.
Keep it personal. Whether it's adding customers' names to the subject line or reminding them what products are in their abandoned shopping carts, personalizing your triggered email campaigns is an important way to drive email performance rates. A recent study by Experian Marketing Services found that personalization of triggered emails gave a lift to:

Average open rates by 25% (29.2% versus 23.3%)
Unique click rates (6.7% versus 4.4%)
Transaction rates, more than doubling them (0.62% versus 0.25%)
Revenue per email by 63% ($0.31 versus $0.19).

Test, track, and optimize. Which types of triggered emails boost engagement with your target audience and get the best response? Continually testing and analyzing such performance metrics as opens, clicks, conversions, and revenue will answer that question, help you send the right email message at the right time, and improve your overall email-marketing ROI.
Are there gaps in your email outreach to prospects and customers? Perhaps a more robust triggered email program is the solution. FulcrumTech can help you use triggered emails to increase your email-marketing success. Email us or give us a call at 215-489-9336 and get started today.
Additional Resources