Successful Event Promotions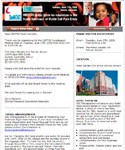 Company
Pharmaceutical Client
What They Do
A global pharmaceutical company that manages numerous clinical drug trials worldwide.
Business Challenge
FulcrumTech was asked to develop an automated invitation and registration system for the company's many events.
Solution
We designed and developed an automated system that begins with an invitation providing recipients the choice to register or decline. The status of all invitees is maintained in the email system so reminders and other follow-up emails easily can be sent to the appropriate list.
Results
Open rates reached 50%, with 70% clicking through to register.
[ContactUs]