Winning Promotional Email Campaigns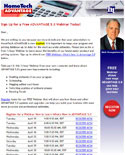 Company
What They Do
Provide pricing data to remodeling and handyman professionals for use in estimating new jobs.
Business Challenge
FulcrumTech was asked to help promote a recent seminar, as training is an important element of HomeTech's business model.
Solution
We developed a promotional email campaign to drive prospects and customers to sign up for seminars.
Results
Open rates reached nearly 40%, with 20% clicking through to sign up for seminars.
[ContactUs]