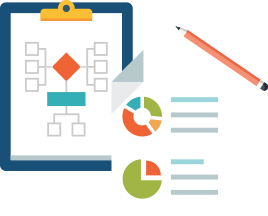 Do you want more control over your email-marketing ROI?
Here's a secret: With the right strategy and execution, you can increase any number you want to, from opens and clicks to page views and conversions. All you need is the right road map.
Enter: The 10-Point Assessment and ROI Road Map. We'll go behind the scenes, analyze your existing data, break down your current email-marketing strategy, and provide expert insight into the 10 critical email pieces that affect your bottom line. Then, we'll give you a prioritized list of changes to implement moving forward.
The result? You'll not only have better control over your email return on investment (ROI), but you'll also know exactly what you should be doing now, what you want to be doing later, and where you could be in the future.
The 10 Points that Drive ROI
You need a decisive plan of action. First? We'll need to do our homework, starting with a methodical review of your program's core components:
Email Strategy—We'll hit the drawing board to contrast what you currently are doing with our vision of what you could be doing–and how that compares with your current strategy. We'll even show you what that means in numbers.
List Acquisition & Opt-in Process—When we pull apart permission practices and take a look inside, we can fine-tune the process to boost engagement, slow down spam complaints, and dramatically diminish deliverability problems.
Email List Management—We'll break your list down into irrefutable percentages, letting us project the rate at which your list is growing and shrinking—potentially down to the month that your list won't exist any more. This is rock-solid feedback on whether or not your list-building strategies are going to provide a worthwhile return.
Email Deliverability—We'll review the different core areas that reveal how many emails you're sending versus how many make it into someone's inbox versus how many are actually seen once in the inbox. This ensures that any issues are addressed immediately so that your deliverability doesn't become, well, a problem.
Engagement—So you know your open and click rates, but do you know your open reach? Mobile conversions? We'll dive into the patterns occurring with your audience at large, determine where engagement is falling off, and figure out how we can best get and keep them engaged, ultimately transforming your content from powerful to powerhouse.
Email Design & Copy—Words and design are code. Code for your subscribers to pay attention to…or glaze over. Open…or delete. Care…or forget. We'll analyze your current email creative to determine if it's coded for conversion. (And if it's not? We'll tell you how to fix it.)
Customization—When you learn how to customize your message based on who's receiving it, conversions will instantly improve. We'll take a look to see how this crucial piece is affecting your strategy now and how it could be helping your strategy later.
Reporting—Our favorite: The numbers. We'll Identify and define important key metrics and establish baseline results so you have an intelligent understanding of what's under the hood of your email-marketing strategy and, more important, why it matters.
Testing—We'll hunt for patterns and evidence of statistical significance to guide an intelligent decision-making process when you aren't sure what, exactly, you're looking for or aren't aware of which numbers today should (and can) impact your revenue tomorrow.
Technology and Infrastructure—How much do you know about your email and analytics platforms? We'll review your processes and show you where you could be getting more from your investments (or where you're spinning your wheels).
When we're done? We'll give you a decisive plan of action for short-term gains and provide an outline of exactly what needs to be done in the future to experience long-term gains.