Are You Making This Mistake in Your Email Footer?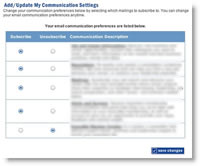 No choice to change email address —
lost opportunity. (
Click to enlarge
)
After years of using a certain Internet service provider, I decided to make a switch. That meant that the numerous email newsletters and other services I had subscribed to so many years ago needed to be changed to reflect a new email address. You'd think changing an address would be simple, right? Wrong!
After spending hours this morning changing my profile with many companies, I've seen just about every mistake a company could make with something so simple:
No update profile link in the footer of the email. Sometimes there would be just an unsubscribe link – which is great for CAN-SPAM – but bad for retaining subscribers who want to continue receiving the emails.
Update profile link exists, but it doesn't work. Yup, I actually came across some emails footers that had an update profile link; however, when I clicked through to the web page and clicked to change my profile, I ended up back at the same page.
No subscribe link. Certainly, an alternative to an update profile center is to provide an unsubscribe link and a subscribe link. Then, I could just unsubscribe – which is easy – and click subscribe and resubscribe. Although that solution works for me, the sender loses all of my history of opens and clicks. Not one email included a subscribe link, which, by the way, would be very helpful if I chose to simply forward the email to a friend, who then wanted to sign up.
Footer is unreadable. One company used a deep blue font on a gray that made it so difficult to read, I had to copy and paste the words into a text editor to read them.
Log-in and username are required to change preferences. Hewlett Packard had a link to a preference center; however, when I got to it I was required to login with a username and password, which I certainly didn't have. How many people will go through this effort? Plus, how am I to know if this is even tied to the emails I've been receiving? We've been using technology for years that recognizes who is clicking over from an email to change an email address to make updating easy.
Excessive follow-up emails to a profile change. Hilton was so excited about my profile change that they sent me four confirmation emails when I did so. Did someone test this stuff?
No follow up to a change of preference request. In one case, I was promised a link with instructions for how to update my profile, but it never showed up – not in spam or anywhere.
I could go on and on. Suffice it to say that you should have the below in your footer, in clear language, and regularly test the functionality of your links:
Physical address and/or P.O. box for CAN-SPAM
Unsubscribe link – be sure this works, or you'll be violating CAN-SPAM
Update profile link – to make changing any aspects of a profile (name, email address, frequency preferences, etc.) easy
Subscribe – lets recipients share with friends who may want to subscribe or resubscribe under a different address.
We spend so much effort in acquiring subscribers. Make it easy to keep them, too.