Gilt Groupe Email: Does It Glitter or Is It Fool's Gold?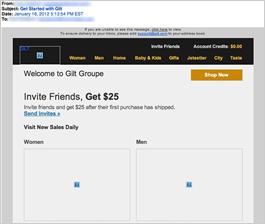 Preview without Images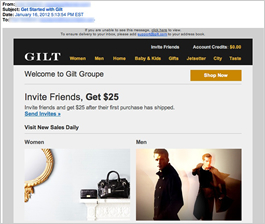 Preview with Images
Gilt Groupe Email Grade: C+
| | |
| --- | --- |
| Subject Line | 5 |
| Preview Pane | 5 |
| Eye Path | 2 |
| Clarity of Message | 2 |
| Call to Action | 3 |
| Offer | 4 |
| Sense of Urgency | 1 |
| Credibility | 5 |
3/20/12 — Gilt Groupe is a members-only shopping website (www.gilt.com) that gives access to top designer labels at up to 60% off the retail price. In this welcome email, Gilt starts off effectively with a strong subject line: "Get Started with Gilt." Sent to new members within minutes of signing up, recipients are looking forward to finding out more about Gilt.
The preview pane – both with and without images – continues to be effective with "Welcome to Gilt," the $25 offer, and the "Shop Now" call to action prominent. In addition, the captions for the offers are clear and well organized.
When it comes to the eye path, however, this email loses some of its luster. The reader's eye is drawn to the "Shop Now" and "Invite Friends" calls to action, while the features of membership are in smaller type at the bottom of the email. New members would normally expect to learn about how the membership works in the welcome email before they actually started shopping or inviting their friends to join. So from both a strategic and design perspective, the organization of this welcome email is backwards.
The clarity of this message suffers from the same challenge. The focus of the email is split between two strong and competing calls to action: "Shop Now" and "Invite Friends." The offer is a good one for the target audience of designer fashion shoppers – members will get $25 if the friends they invite become members and make a purchase. But there's no sense of urgency associated with the $25 offer to invite friends. If the focus of the email was shifted to the "Shop Now" call to action, however, the sense of urgency would be high because the sales listed in the email are good only for that day. Gilt might do well to consider leading with this in their welcome email and promote sharing with friends after establishing a stronger relationship with a new member.
Credibility is not an issue with this email – it's a well-known brand for the target audience. In other words, Gilt doesn't need to build value in this email because the new members are already sold. The goal here is to confirm to recipients that they've made a good decision to sign up for membership, which this welcome email accomplishes.
Disclaimer: FulcrumTech does not have access to the performance data relating to this promotional email, so any tests performed on this email can't be reflected in FulcrumTech's commentary.