Look in the Mirror When Building Your Email List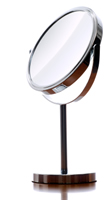 I must have been asked at least 10 times this week whether we offered email lists so a company could add thousands of names to their list overnight. I wish email list building was that simple, and I often point people to a couple of articles I've previously written about the downfalls of renting lists:
The reality is that growing an email list the good old-fashioned way is often so much easier than you'd think. If you're truly serious about building your list, then get serious…I mean really serious. For instance, think about the people in various departments in your company who regularly have contact with the outside world. Here are few examples to get you started:
Sales representatives
Customer service representatives
Marketing staff
Warehouse personnel
Accounting staff.
In fact, I'd be hard pressed to find any employee in any company who doesn't interact on a regular basis with relevant customers, partners, prospects, investors, and more.
Now imagine if your employees regularly asked their contacts, as a matter of doing business, if it was okay to add them to the company's email list. I realize that motivating employees to help build your list can be a challenge, so give them an incentive. Have a competition and give away something fun to the winner. A gift certificate for a nice dinner out, for example, may be all you need to offer.
Then, watch how fast your list grows when everyone participates.
That's just one way to grow your email list. So, if you're really serious about building your list, don't forget to look in the mirror and ask yourself if you are definitely doing everything you can – right within your own company – to build your email list.
If you have any great ways you got your employees engaged and motivated to build your list, let us know. We'd love to hear what's working (or not working) for you.