5 Tips for Integrating Your Email Newsletter with Social Media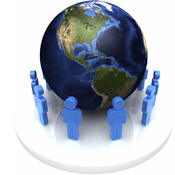 I recently read an article – "Making Email Newsletters More Social" – that was a great reminder of how to integrate your organization's email newsletter with social media. More and more email marketers today are realizing the benefits of combining their social media and email-marketing efforts. In a study conducted by the email-marketing firm Lyris, for example, 54% of North American online and email marketers surveyed said their results were at least somewhat better because of integrating social media marketing and email marketing, while only 6% reported no improvement.
Here are 5 important ways to make your email newsletter an even more effective part of your overall marketing plan by integrating it with social media:
Include "share" buttons in your email newsletters for the social networking sites that are relevant to your organization, such as Facebook, Twitter, LinkedIn, and YouTube. This will help encourage – and make it easy for – subscribers to share your content with their social networks. If your email newsletter typically features more than one article, be sure to include buttons for each article.
Invite people on social networks to follow your organization by prominently displaying "follow me" icons in your email newsletter.
Use social network accounts to promote your email newsletter. This would include teasers and links to topics covered in your recent and upcoming newsletter articles. When including links to your newsletters and articles, consider using URL shortening sites such as bit.ly. This will allow you to track how many people are clicking through to your articles via the social networking sites.
Conduct surveys and polls in your email campaigns to find out what your subscribers and social network followers want to read about in your email newsletter.
Keep your content relevant and current by reporting on the hot topics in your industry. This will help pique interest and spark conversations among your subscribers and social media followers. Learn more here about how to make your email relevant and drive up open rates and click throughs.
Have you had success integrating your email-marketing efforts with social media? We'd love to hear what tips you can add to this list!