Peeps Email: Could It Be Any Sweeter?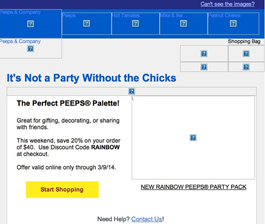 Preview without Images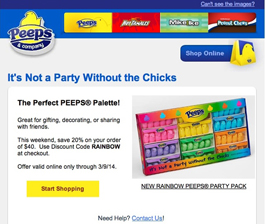 Preview with Images
Peeps Email Grade: [C+]
| | |
| --- | --- |
| Subject Line | 3 |
| Preview Pane | 4 |
| Eye Path | 2 |
| Clarity of Message | 2 |
| Call to Action | 2 |
| Offer | 5 |
| Credibility | 4 |
| Sense of Urgency | 4 |


April 14, 2014 –
Organization Overview
Peeps are sugar-coated marshmallow candies produced by the Bethlehem, PA-based company Just Born, Inc. Traditionally associated with the brightly hued marshmallow chicks and bunnies that are sold near Easter, the Peeps marshmallow product line has expanded to include new shapes and flavors for celebrating other holidays and seasons. In addition, a wide variety of Peeps-themed merchandise — including clothing and toys — is now sold in Peeps & Company stores and online. A family-owned candy manufacturer in business since 1923, Just Born also makes other candy favorites, including Mike and Ike, Hot Tamales, and Goldenberg's Peanut Chews.
Subject Line Is Timely But Could Have Been Stronger
This email was sent to a Peeps fan who had entered a Peeps and Company contest on Facebook and opted-in to receive promotions from the company. Delivered on the weekend daylight saving began, the subject line — "Save Daylight and Dollars this weekend" — is quite timely and hints that there's an opportunity for special savings. But is it enough of a tease to drive opens or could it have been stronger? Once recipients open the email, they'll find a great incentive offer that's good for only a couple of days. Using the offer information and creating a sense of urgency in the subject line may have increased the open rate.
The preview pane without images does a good job of portraying the email content. Although no alternative text was used in the images, the copy below each image provides enough description for readers to know what the email is all about.
Eye Path and Calls to Action Are Weak and Hurt Message Clarity
The eye path for this Peeps promotional email is weak. It starts off with a really fun and catchy headline: "It's Not a Party Without the Chicks." In addition to not following through from the subject line, however, this headline doesn't provide any clear direction of where to go from there. The subhead is also cute — "The Perfect PEEPS Palette" — but doesn't explain the purpose of the email or give recipients any incentive to read on. The reader's eye is drawn to a new product, the Rainbow Peeps Party Pack, which at least ties into the headline and subhead copy.
As a result of placement and color choice, the two call-to-action buttons blend into the email rather than popping. Plus, the "Shop Online" call-to-action button is placed in the upper right corner before recipients are given any reason to click on it. The confusing eye path and obscure calls to action make the email's primary message unclear.
Good Offer and Sense of Urgency Are There, But Not Prominently Promoted
If recipients take the time to read the email copy, however, they'll discover a very good offer: The opportunity to save 20% on an order of $40. There are clear directions on how to get the discount by using the promo code "RAINBOW" at checkout. The promo code also nicely complements the featured product. Plus, there's a sense of urgency in that the offer is valid for only 2 days. But more prominently using the information in both the offer and the offer deadline — such as in the subject line, headline, and call to action — would have made this email much stronger and likely driven more conversions.
The Peeps brand is popular and well known, especially the marshmallow chicks during the spring season. This brand recognition alone certainly lends credibility to this email. That credibility perhaps could have been even stronger if a customer testimonial and an online shopping security seal were added to the email.
Disclaimer: FulcrumTech does not have access to the performance data relating to this promotional email, so any tests performed on this email can't be reflected in FulcrumTech's commentary.