Get the Click: Parallels, Inc.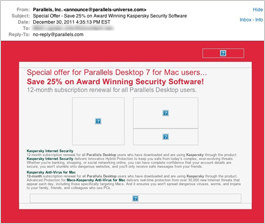 Preview without Images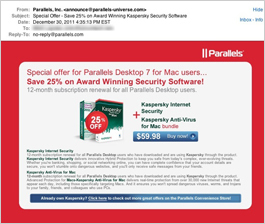 Preview with Images
Parallels Email Grade: C
| | |
| --- | --- |
| Subject Line | 5 |
| Preview Pane | 3 |
| Eye Path | 3 |
| Clarity of Message | 3 |
| Call to Action | 4 |
| Offer | 3 |
| Sense of Urgency | 1 |
| Credibility | 2 |
1/3/12 — This email to promote Kaspersky Internet Security and Anti-Virus did a great job with their subject line—it has a clear offer and front-loaded benefits, and it clearly identifies the reason for the email—but its opportunity to follow through effectively broke down once opened. My greatest concern is over the clarity of the message. It looks as if it may be a great deal to save 25%, but it's unclear what Internet Security is vs. Anti-Virus protection.
Plus, there's no big benefit hitting me hard once I open the email. This email could potentially do better with supporting text, optimally with some supporting metrics, of how much of a risk users are at without such protection. That can create a sense of urgency, not relating to an expiration of the offer (which is also missing in this email).
With respect to the offer, it is likely worth testing the inclusion of the price of the individual Kaspersky products before the discount to see if the response rate changes.
This email could be more powerful if it provided supporting metrics relating to why it is "award winning" and how many people in the world are already using it. There is a note as to what it protects against in the small print, but it is easy to overlook. Kaspersky is a popular product, but emphasizing why it should be purchased over all other similar products would make the recipient more likely to click through. A quick teaser is all that's necessary, as the landing page must do the final conversion.
Finally, the very small text under the offer is very distracting. It's hard to wade through, and it's unclear what I'm to learn from the headings (e.g., Kaspersky Internet Security). I'd test that copy with better headings and perhaps some bullets of the key points. Some variations in copy and design would be appropriate to test for click-through.
Disclaimer: FulcrumTech does not have access to the performance data relating to this promotional email, so any tests performed on this email can't be reflected in FulcrumTech's commentary.