Thompson Toyota Email: Does It Drive You to Be a Facebook Fan?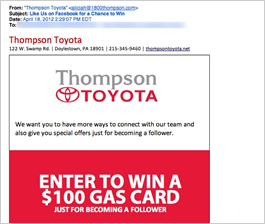 Preview with Images
Thompson Toyota Email Grade: C
| | |
| --- | --- |
| Subject Line | 5 |
| Preview Pane | 1 |
| Eye Path | 3 |
| Clarity of Message | 2 |
| Call to Action | 3 |
| Offer | 4 |
| Sense of Urgency | 3 |
| Credibility | 3 |
4/19/12 — The primary goal of this email sent by the Doylestown, PA-based car dealership Thompson Toyota is to build the company's Facebook fan base. Sent to customers, the email starts off with a strong subject line that is likely to drive a high open rate, especially among Facebook users: "Like Us on Facebook for a Chance to Win." Recipients don't know what they may win, but given that it's sent from a car dealership, their curiosity is likely piqued. Could it be a car?
Once the email is opened, however, you quickly see that the prize is a $100 gas card. This is still a pretty great incentive to push a "like" button on Facebook, especially given today's high gas prices. The eye path is effective, leading from the company logo, to the offer, to the call to action: "To enter, just like us on Facebook by 5/31/12." This deadline adds a sense of urgency; however, the email was sent in mid-April, so recipients aren't that compelled to take immediate action.
The actual call-to-action button is not very clear: Recipients must click the small Facebook like icon, which takes them to Thompson Toyota's Facebook page, where they can "like" Thompson Toyota. It might have been more effective to add another link to the Facebook page, such as on the line "Enter to Win a $100 Gas Card Just for Becoming a Follower."
When it comes to the clarity of message, there's a problem with the terminology. Companies on Facebook have fans, not followers. In two places in this email, however, Thompson Toyota incorrectly uses the phrase "just for becoming a follower." And because Twitter has followers, and a Twitter icon is also included in this email, some recipients may question whether the contest involves Twitter, too.
There's an inherent credibility in this email in that Thompson Toyota has built a trusted relationship and brand loyalty with their current customers. But there's some question as to the validity of the contest described in this email. Typically, in contests associated with growing a Facebook fan base, people are asked to share contact information, such as name and an email address, once they have liked the page. Plus, they are notified that they have successfully entered the drawing. In this case, nothing happens after clicking on the Thompson Toyota's Facebook like button. It leaves the user wondering how the contest will be administered and how the winner will be contacted.
The biggest problem with this email – as reflected in our rating for the preview pane – is that it was sent with embedded images. In the original email, there are four attachments for the embedded images. Because spam filters can be tripped more readily with attachments, deliverability may have suffered as a result of using embedded images rather than linked images.
Disclaimer: FulcrumTech does not have access to the performance data relating to this promotional email, so any tests performed on this email can't be reflected in FulcrumTech's commentary.
ANOTHER ARTICLE YOU MIGHT LIKE