Aron Ralston — Never Give Up
The Real Power of One Guy to Overcome All Odds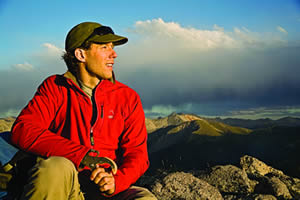 As I introduced in my first blog about the recent ExactTarget Connections 2011 conference, this is a summary of a session I found truly motivating. Aron Ralston – the mountain climber who faced the unimaginable – delivered the most riveting, inspirational story of the week. With over 3,000 people in the room, Aron spoke passionately for an hour. You could have heard a pin drop the entire time.
In April 2003, Aron was hiking in Blue John Canyon in Utah, when a dislodged boulder pinned his arm against the canyon wall. Graduating in the top of his class at Carnegie Mellon, he certainly had the mental capacity to figure out every option to free himself. After many attempts, he saw a vision of a future son, which gave him the strength to face his challenge one last time. With hardly an ounce of energy and hydrated only by his own urine (if you ever think you're having a bad day, just imagine that!), he tackled amputation of his own arm one final time. He literally broke his arm by leveraging it against the boulder. He hiked close to eight miles in the direction of his truck, when a family fortunately discovered him and then a helicopter took him to a hospital.
His story reminded us all of how will, vision, and our own power can achieve the unbelievable. "May all your boulders be blessings," he said, to remind us that whatever boulder may be in our way, with vision and will, we can likely overcome it. When speaking about my own adventures in building FulcrumTech, I often point out that it's the power of persistence and vision that makes an entrepreneur successful. I personally could have given up on building my own company numerous times, but it's sheer willpower and persistence that keeps me going.