Bed Bath & Beyond Email: Does It Pique Subscribers' Pinterest?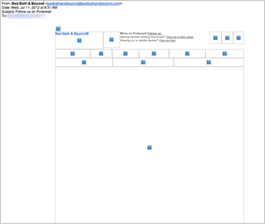 Preview without Images
Preview with Images
Bed Bath & Beyond Email Grade: B+
| | |
| --- | --- |
| Subject Line | 5 |
| Preview Pane | 4 |
| Eye Path | 4 |
| Clarity of Message | 4 |
| Call to Action | 5 |
| Offer | 4 |
| Credibility | 5 |
7/13/12 —
Company Overview
Bed Bath & Beyond is a chain of retail stores that, as its name implies, primarily sells merchandise for bedrooms and bathrooms and other home products.
A Subject Line That Inspires Action
"Follow us on Pinterest!" exclaims the subject line of this promotional email, which was sent to a Bed Bath & Beyond shopper who subscribed to receive the store's emails. This subject line is highly effective given the current popularity of Pinterest — a social networking website that features "pinboards" where followers can organize and share photographs of their favorite things.
As we highlighted in a recent blog post — "5 Ways to Leverage Pinterest to Increase Email Open and Click-through Rates" just having "Pinterest" in the subject line has been shown to drive up open rates. Another reason this subject line was likely successful in delivering good open rates is that approximately 82% of Pinterest users are women, who also account for the majority of Bed Bath & Beyond's primary target audience. Plus, the store's merchandise certainly fits in well with many of Pinterest's most popular boards, including decorating, weddings, and recipes.
Strong Eye Path and Clear Message — with One Distraction
The eye path for this email is also strong, starting with the Bed Bath & Beyond logo in the upper left corner, leading to the red Pinterest logo in the catchy headline: "Cutting Boards. Ironing Boards. Memo Boards. Pinterest Boards. We've got 'em all!" Then, readers' attention is drawn to the clear and prominent call to action, also in red, "Follow us now." The same call to action is located just below Pinterest boards that feature Bed Bath & Beyond product shots. And then readers' eyes are drawn to the embedded Pinterest survey. If subscribers scroll down, they'll find yet another section about Bed Bath & Beyond products and gift cards that seems to have been added as an afterthought. This only seems to distract, however, from the primary message of the email.
The clarity of this email's message is high. And although there's not an offer in the true sense of the word, it's quite clear what Bed Bath & Beyond wants subscribers to do — follow them on Pinterest.
Effective Preview Pane without Images
The preview pane without images does a great job of communicating the main message of the email. Subscribers instantly see the Bed Bath & Beyond logo in blue type on the left. Then, front and center is the alternate text, which announces, "We're on Pinterest. Follow us." In addition to the Pinterest link, two other links — to view the email as a web page and as text for mobile devices — are also prominently centered. Plus, the embedded Pinterest survey is visible, as well.
Bed Bath & Beyond's Pinterest Campaign Seems to Be Succeeding
As far as credibility goes, Bed Bath & Beyond is a well-recognized brand, and this email uses that branding to establish credibility. In addition, the Pinterest survey demonstrates that Bed Bath & Beyond is interested in finding out how to best meet subscribers' needs and even expresses a willingness to look at their Pinterest pages to learn more. With nearly 33,000 Pinterest followers at the time of this review, Bed Bath & Beyond seems to be achieving success with their Pinterest campaign.
Disclaimer: FulcrumTech does not have access to the performance data relating to this promotional email, so any tests performed on this email can't be reflected in FulcrumTech's commentary.