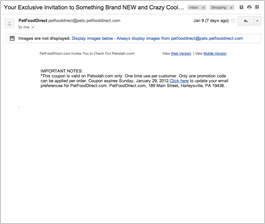 Preview without Images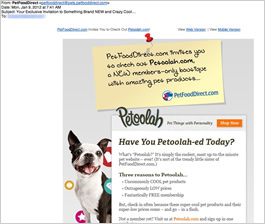 Preview with Images
Petoolah Email Grade: D
| | |
| --- | --- |
| Subject Line | 2 |
| Preview Pane | 3 |
| Eye Path | 2 |
| Clarity of Message | 2 |
| Call to Action | 2 |
| Offer | 2 |
| Sense of Urgency | 1 |
| Credibility | 3 |
1/17/12 — This email to promote PetFoodDirect.com's new pet website, Petoolah, has a pleasing design, complete with a very adorable dog to capture pet lovers' attention. In looking more closely, however, we found several areas that could be improved to make this email promotion more effective and likely deliver better results.
For example, the subject line, "Your Exclusive Invitation to Something Brand NEW and Crazy Cool…" is cute and catchy, but it doesn't tell the recipient what's in the email. So, will brand recognition in the From Name and words such as "exclusive" and "crazy cool" be enough to motivate people to open the email and find out more? Perhaps not as much as a clearer description of the offer inside, but testing among the target audience would be in order to accurately answer that question.
A general lack of clarity of the message that is present throughout the email could be hindering a good-looking email to perform its absolute best. The overall clarity of the message is likely hurt by the subhead "Have You Petoolah-ed Today?" You have to read all the small print to know what this Petoolah promotion is all about. Similarly, the call to action is unclear: What do you get 20% off of? What are you signing up for? And, as far as a sense of urgency, there is a deadline for the coupon, but recipients would have to read the fine print at the very bottom of the email to know that. Promoting that sense of urgency could have driven an even stronger response from what they actually had received.
In reviewing the preview pane with images, there's a handwritten sticky note from a trusted brand about the new website, which is great. In the preview pane without images, however, the company missed a huge opportunity to tell recipients what their offer is all about since none of the "sticky note" text is visible unless images are downloaded.
For pet lovers who are familiar with the trusted brand PetFoodDirect.com, the credibility is high because Petoolah is aligned with that sister website. This association could be driven home even stronger in the email's copy and design.
Overall, the design is very pleasant, but if some of the above items were addressed and tested, there could be some potentially dramatic improvements over the original copy and design treatment.
Disclaimer: FulcrumTech does not have access to the performance data relating to this promotional email, so any tests performed on this email can't be reflected in FulcrumTech's commentary.