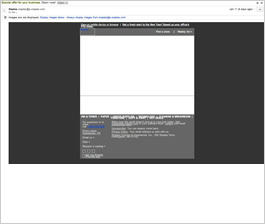 Preview without Images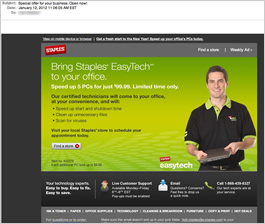 Preview with Images
Staples Email Grade: D
| | |
| --- | --- |
| Subject Line | 1 |
| Preview Pane | 1 |
| Eye Path | 2 |
| Clarity of Message | 2 |
| Call to Action | 2 |
| Offer | 4 |
| Sense of Urgency | 3 |
| Credibility | 2 |
1/17/12 — This email from Staples promotes a special offer for tuning up PCs to make them faster. But you wouldn't know that from the generic subject line: "Special offer for your business. Open now!" Because there's no alignment with the offer in the email, recipients have no idea what to expect in the email and, therefore, likely no motivation to open it. Similarly, the preview pane without images also sets no expectations with the copy: "Get a fresh start to the New Year! Speed up your office PCs today."
As we look at the offer, it's actually quite compelling: "Speed up 5 PCs for just $99.99. Limited time only." But this offer is found in the subhead, while the headline doesn't communicate any benefits to the reader. In this case, it may have been more effective to reverse the headline and subhead. We'd definitely want to test that. In further examining the eye path, we find the reader's eye is drawn to the technician holding the computer, but the call to action is on the opposite side. In addition, the call to action – "Find a store" – is weak and likely not the best first action to have the recipient take. A more effective call to action could be, "Schedule an appointment now," leading to a landing page where recipients could find the most convenient store as they complete a form to schedule an appointment. Also note that the contact phone number located in the bottom section of the email is reverse text, blue on gray, which is extremely difficult to read.
There is a sense of urgency in this email because of the "Limited time only." If a specific deadline were included, however, the sense of urgency would be much more compelling.
Finally, the credibility for this specific offer is not as strong as it could be. Staples certainly has a strong reputation as a great source for office supplies. But there's not much in this email to help convince readers that they are the place to go to get computers tuned up, other than letting us know that "certified technicians will come to your office." Staples could let us know how many PCs they tuned up over the last year, for example, perhaps provide statistics on the extent of improvements they've delivered, the level of satisfaction as reported by customers (resulting from quantitative surveys), and other such data to help build credibility for their IT services.
Disclaimer: FulcrumTech does not have access to the performance data relating to this promotional email, so any tests performed on this email can't be reflected in FulcrumTech's commentary.