Summary of ExactTarget's New Product Investments
As I introduced in my first blog, this is a summary of ExactTarget's new product investments that helps demonstrate the company's continuing commitment to marketers. ExactTarget announced at Connections 2011 that they expect to exceed $200 million in revenue, with $40 million of that being plowed right back into research and development. Not many other email service providers (ESPs) can boast these levels of success and investment.
ExactTarget continues to invest in the capabilities that are needed to segment and deliver targeted emails. Scott McCorkle, COO at ExactTarget, demonstrated 11 new enhancements to their product suite. I won't list them all here, although you can see the full list at ExactTarget's site.
One incredible tool is their Audience Builder. It allows users to quickly winnow a large list down to a discrete list of subscribers for customized communications. It's powerful in both its user interface and speed of processing. During a VIP data center tour in Indianapolis, I saw the machine that ExactTarget uses for the processing. Thanks to this machine, what initially took about 30 minutes to process now takes mere seconds. Very cool!
One of the most important lessons we share with our own clients is how important it is to segment. Segmentation allows you to identify like-minded subscribers so you can send highly relevant personalized messages. Would you communicate differently with a client who purchases five times that of your average customer compared to a brand new prospect who has yet to purchase? Determining what your segments should be is one challenge, but actually generating them is another. ExactTarget's Audience Builder tool takes the concept of segmentation to an entirely new level.
Another incredibly helpful tool is ExactTarget's new dashboard, including "Pulse," which shows interaction of all communications—email, mobile, social—in real time and all in one place. This is very useful. During the presentation, Scott McCorkle performed a live demonstration in which he released an email and showed how the reporting works…live! These tools appear to now compete with Radian6 and other social media monitoring tools, but add a robust layer of data integration with email.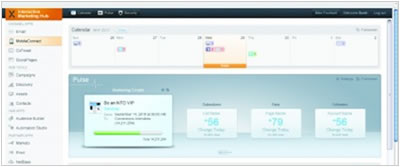 ExactTarget is also beefing up security for logins and much more. They emphasized that most security breaches are actually due to patient hackers who collect information to break in by using a valid login. ExactTarget's security improvements address these head-on in a very proactive way.
Finally, during the data center tour, ExactTarget demonstrated the power of their redundancy, server configuration, and more to process its seven billion (and growing) emails a month. You need to be able to count on your emails going out when you want them to, and ExactTarget demonstrated that they take that very seriously.