5 Ways to Leverage Pinterest to Increase Email Open and Click-through Rates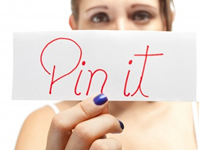 By now, even if you aren't a Pinterest user, you have likely heard of it and its "overnight" success on the social media scene. According to a recent report from Experian Hitwise, Pinterest is now the number three most-popular social network in the United States behind Facebook and Twitter. With over 100 million total visits per month, Pinterest cannot be ignored as an opportunity for social media for your businesses.
What is Pinterest? In Pinterest's own words, "Pinterest lets you organize and share all the beautiful things you find on the web. People use pinboards to plan their weddings, decorate their homes, and organize their favorite recipes." Not surprisingly, based on that description, the site tends to appeal to a female audience more than a male one, but things are changing quickly. Although pinboards about crafts, recipes, quotes, fashion, and home decorating are still most popular on the site, people are finding new and creative ways to bring their interests to this medium and attract new audiences to the site.
Of course, we here at FulcrumTech are particularly intrigued by the opportunities we see to help our clients use Pinterest to drive site traffic and conversion. Due to our deep roots in email marketing, we thought we'd share a few ways you can use Pinterest with email to improve open and click-through rates, drive traffic, and increase sales for your products or services. Highly visual products work best, but even if you are a service-based business, you can still find quite a few creative ways to ride the tide of attention Pinterest has garnered to your own successful end.
Not sure where to start when it comes to all this Pinterest stuff? Interested in more ways you can integrate email marketing and social media? Contact us or give us a call at 215-489-9336. We love helping companies grow!