The Power of Popover Forms — How to Increase Your Email List Growth by 300%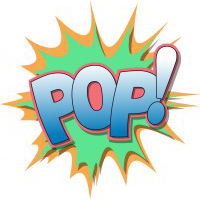 What's the first word that "pops" into your head when you think about online popups or popovers? "Annoying," perhaps? But after you read this blog about FulcrumTech's popover results, as well as the incredible lifts in subscriptions that marketers are getting thanks to popover forms, you may instead use words such as "effective" and "unbelievable" to describe them. Personally, I've been blown away by the results that are possible from this tactic. And if your organization is serious about building an email list, it's time to consider a popover form to help drive your subscriber sign-ups.
What's a Popup Versus a Popover?
Although they're different, popups (or pop-ups) and popovers (or pop-overs) are terms often used interchangeably today. Popup ads, which gained popularity in the 1990s, tended to annoy and distract online users, so browsers began blocking them. Also called hover ads, popovers use JavaScripting and are "superimposed" as a transparent layer on top of a webpage. Popovers still "pop up" on the screen. But because they don't open in a new browser window and are actually part of the webpage, users can't block them.
When Implemented in the Right Way, Popover Forms Work
The concept of the popover form is that its sudden appearance draws attention to the subscription offer that may have easily been overlooked on the webpage. And when popover forms are implemented in the right way, they work well for many marketers in terms of getting significant lifts in their subscription rates. At FulcrumTech, we recently added a popover subscription form for website visitors, which has resulted in four times as many sign-ups for our newsletter.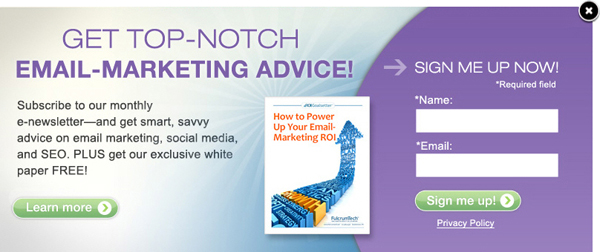 Here are just a few other examples of popover form success stories:
Best Practice Tips for Using Popover Subscription Forms
So how can popover subscription forms be implemented successfully to accelerate your list growth, without turning off website visitors? The following are some popover best practices tips:
Provide a large close/exit button.
Ask for minimal information, such as simply a first and last name and an email address.
Be sure your call to action is clear and the submit button prominent.
Give website visitors some time to digest the content on a webpage before having a popover form appear. For example, the FulcrumTech's popover form appears 5 seconds after a visitor arrives on a webpage.
Include a great incentive offer in the popover form to help drive more conversions.
Be careful not to overuse popovers. We suggest allowing a popover to show only once per website visit. And for people who revisit the site, let some time elapse before having the popover show again. For example, the FulcrumTech popover appears to anyone who hasn't previously seen it in the last 30 days. So if visitors interact with our popover by signing up or closing it, a cookie will prevent them from seeing it again for the next 30 days.
Set up appropriate A/B split tests — such as for timing of the appearance of the popover, incentive offer, etc. — to help optimize your sign-ups.
Follow up with a strong welcome email and solid content in future email communications to help retain your new subscribers.
Keep your email list healthy as you grow it by identifying and pruning out your oldest inactive subscribers — those subscribers who haven't engaged with your organization in a long time and are unlikely to do so in the future.
Are popover forms a feasible option for growing your organization's email list? FulcrumTech can help you answer that question, as well as implement an effective popover form to drive more sign-ups. Email us or give us a call at 215-489-9336 to learn more today.
What's your experience with popup/popover forms? We'd love to hear your opinions!