Welcome Email Series — How to Leverage New Subscribers' Interest in Your Brand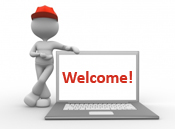 With typical open rates of about 50%, welcome emails are among the most opened emails you'll ever send. Yet surprisingly, only about 50% of organizations send welcome emails, according to a recent study by MarketingSherpa. New subscribers have expressed an interest in your organization by signing up to receive emails from you. So this is the time to act by sending a series of automated, triggered welcome emails to successfully drive conversions. Here we talk about some of the most important things to consider as you roll out the welcome mat for your new subscribers.
Be careful not to overwhelm new subscribers with too much information too soon. When it comes to creating a welcome email series, there's no exact formula for how many emails to send or what to say in each. The primary purpose of your welcome series is to help prospects and customers connect with your organization's brand, drive conversions, and help build relationships that will lead to long-term engagement.
Send the first welcome email right away. Your brand is fresh in new subscribers' minds, and they'll be expecting to hear from your organization. This is especially true if you've offered them an incentive, such as a sweepstakes or coupon, to share their email address with you.
Be sure to keep the look and tone of your emails consistent with your organization's brand and website. This is an important way to help new subscribers recognize that your organization's email was something that they had signed up to receive.
Keep in mind that images may not show in the first email of a welcome series for many of your new subscribers. That's why it's important to effectively use alternative text to describe what's in the images and pique enough interest so subscribers will be encouraged to download the images.
Set expectations and create anticipation. In other words, let subscribers know how often you'll be sending them emails (e.g., daily, weekly, monthly). Plus, give them an idea of the content, such as coupons, information about upcoming sales, or valuable industry information in newsletters. This gives them an incentive to continue to open your emails in the future.
Increase engagement by personalizing the email message as much as possible. For example, if you have a first name or previous purchase information, or if you know where the subscriber signed up, such as through a social media site, use it.
Use your welcome emails to grow your social following. Include links to your Facebook page and/or Twitter account and encourage new subscribers to follow your organization. This is a great way to help spread the word about your organization.
Use your welcome email series to find out more about your subscribers. You can pose questions to be answered with a single click or encourage subscribers to visit your preference center. The more information you can gather on your subscribers, the more relevant your future emails and the more engaged your subscribers will be.
Track and test your welcome emails to help optimize the opens, clicks, and conversions. Such factors as sending frequency, day and time sent, subject lines, calls to action, images, incentives, and offers all can have a huge impact on the success of your welcome campaign. Testing will help you find out what resonates best with your organization's target audience.
Is your organization interested in designing a welcome email series that builds long-term relationships and drives conversions? FulcrumTech can help. Email us or give us a call at 215-489-9336 today.