What Can an Unsubscribe Landing Page Do for Your Email Program?
It's inevitable – people will from time to time decide to unsubscribe from even the best email-marketing programs. Your company likely complies with the Federal Trade Commission's CAN-SPAM unsubscribe requirements, such as including an unsubscribe button at the bottom of all emails and processing unsubscribes within 10 days. But are you taking advantage of the unsubscribe process to find out more about your subscribers' needs? Here we discuss how you can effectively use your unsubscribe landing page to find out why people are unsubscribing, help retain more subscribers, and ultimately build a h2er, more successful email program.
What's on Your Unsubscribe Landing Page?
Is your unsubscribe page a simple transactional page offering only the opt-out option? If it is, you're likely losing subscribers who may only want to make changes to their current subscription. Plus, you're missing a great opportunity to determine why people are choosing to unsubscribe. When designing unsubscribe pages, however, CAN-SPAM compliance should be a top priority. The following include the major unsubscribe provisions to consider:
Your unsubscribe process can't require the use of a login and/or password.
Your unsubscribe link must either immediately unsubscribe users when they click on it or lead to a landing page that contains a simple, one-click unsubscribe form.
Your unsubscribe form can't lead to additional forms, pages, or links to complete the unsubscribe process.
Two Components to Help Make Your Unsubscribe Landing Page More Effective
The unsubscribe process should be simple and straightforward so subscribers who really want to opt out can do so in one click. In addition to being CAN-SPAM compliant, it shows your subscribers that you want them to voluntarily receive and read your emails and newsletters. Also keep in mind that by ensuring the opt-out experience is not complicated or annoying, unsubscribers may actually choose to stay or consider coming back at another time in the future.
The following are two components that can help make your unsubscribe landing page more effective:
Provide "opt-down" alternatives.
You'll find there are times when people may click on the unsubscribe button but not really want to completely opt out of your email list. Rather, they're looking to "opt down," or simply change their subscription preferences. So, although acknowledging from the start that subscribers' wish to leave is important, you should also give them the opportunity to consider other options on your unsubscribe landing page.

Examples of other options to provide on your unsubscribe landing page include:

The opportunity to change the frequency of mailings.
If you have multiple newsletters, give subscribers the opportunity to opt out of one, while keeping their subscriptions to the rest.
A change of email address option. (If people don't know how to change their email addresses, they'll often unsubscribe and then sign up again with another address.)
Always be sure to include a "stop unsubscribe" button, in case they clicked the unsubscribe button in error.

Collect information about why people are unsubscribing.
Determining why your subscribers are opting out is key to helping you improve future email-marketing efforts. You'll find people who are unsubscribing are often willing to spend an extra few seconds to give you their feedback. So be sure to make it as easy as possible by providing a simple checklist or drop-down box with the most common reasons people opt out, as well as a comment box for "other" reasons not listed.

A list of common reasons for unsubscribing could include:

I'm not interested in your products/services.
You send emails too frequently.
I'm no longer in the market for your products/services.
I'm not interested in your newsletter content.
I receive too many emails.

Responses to an exit survey should be optional. In other words, people shouldn't be required to give you feedback to complete the unsubscribe process.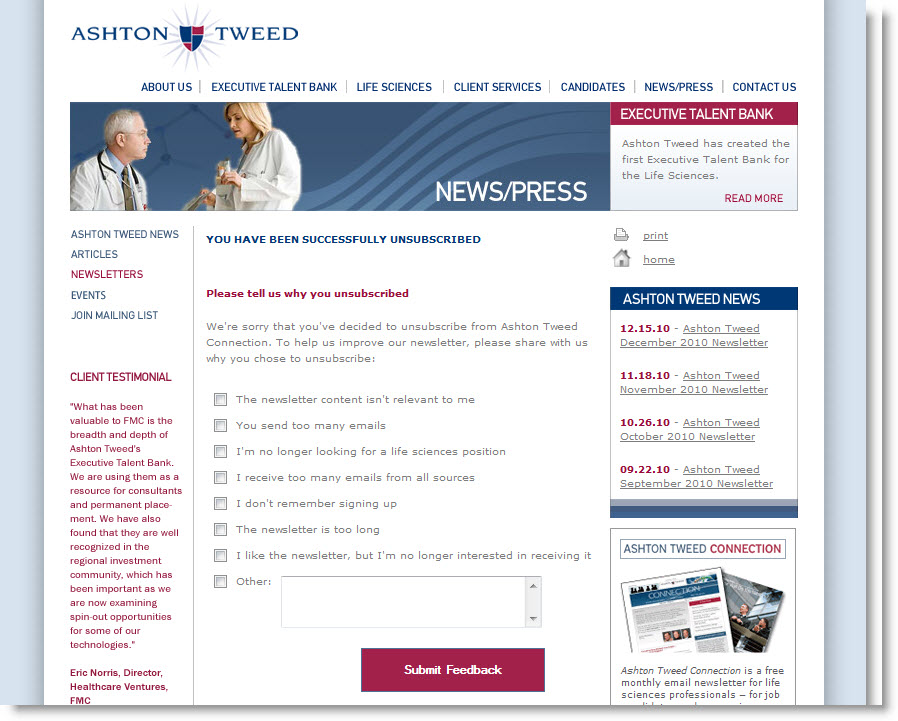 Many email service providers today can easily integrate all the data collected from an unsubscribe page into user records for you to access and utilize for improving your email-marketing program. If you're interested in learning more about how to optimize your unsubscribe page and integrate the information collected, the experts at FulcrumTech can help. Contact us or give us a call today at 215-489-9336.