Creating a Squeeze Page That Converts

Getting the Most Out of a Squeeze Page
If you're looking for an effective way to build your email list, a squeeze page may do the trick. Here"s what you need to know about how to get the most out of a squeeze page.
What's a Squeeze Page?
You land on a web page and an ad pops up offering you a freebie. That"s a squeeze page. In other words, a squeeze page is a landing page designed to collect email addresses from potential subscribers. Squeeze pages give potential subscribers an incentive to give up their email addresses. Typically, the incentive is in the form of valuable content. Besides "squeezing" email addresses out of potential subscribers, squeeze pages were aptly named because they also help squeeze prospects and customers through the sales funnel.
Coming Up With an Enticing Squeeze Page Offer
The freebie that you offer on your squeeze page should be something of value to your target market that can be sent via email. It should also be information that is related and relevant to the products or services your company sells. For example, some of the most common types of content offered on a squeeze page include:
White papers
E-books
Email course series
Templates and/or design aids
Discount coupons.
Instead of simply sharing a link to information, offering content that must be sent via email helps to create a sense of exclusivity, as well as provides justification for why you"re requesting an email address. And it"s a first step toward establishing a relationship with new potential customers.
Here's an example of a FulcrumTech squeeze page, which provides a download of our comprehensive email-marketing white paper, A Marketer's Guide to Email Deliverability.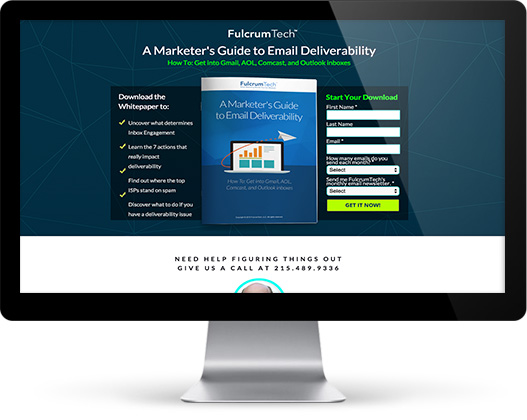 Preview
10 Tips for Creating a Squeeze Page That Converts
The following are some key tips to help you get the most conversions from your squeeze pages:
Keep the design and copy focused on the offer. In other words, avoid including links to other web pages or social media sites. You don't want potential subscribers to be tempted to leave your squeeze page before giving you their email addresses.
Be sure to include a clear way to close a pop-up squeeze-page window. Pop-up squeeze pages can annoy website visitors to the point that they go to a completely different page to avoid or escape the experience. So, always provide a way to easily opt out and continue reading the web page content, such as a "No Thanks" link.
Keep the sign-up form super simple. After all, an email address is all you really need. Requiring too much information (such as name, address, phone number, company name, and work title) may be a turnoff for potential subscribers. Sure, finding out as much information as possible about your prospects and customers can help you segment your email list to deliver more targeted marketing messages. But you can collect that information from new subscribers later by setting up a preference center, providing additional incentives that would be provided in return for additional personal information, or conducting customer surveys.
Use benefit-driven copy on your squeeze page's call-to-action button. For example, "Send my e-book" or "Give me access to the course" are stronger calls to action than simply saying, "Submit."
Ensure potential subscribers get their free product immediately after giving you their email address. That's where email-marketing automation can help.
Add a sense of urgency to your squeeze pages to help drive conversions. For example, you can accomplish this by making the offer available for a limited period of time. Don't forget to include this incredibly important squeeze-page item!
Build credibility on your squeeze page. One great way to do this is by including testimonials from other subscribers who have benefited from your offer, products, or services.
Promote your squeeze page. Use your social media accounts to send prospects to your squeeze page. Send a nurturing email with a link to your squeeze page. Also, consider creating a banner or popup to post on your website to help promote your squeeze page.
Test and optimize your squeeze page. Similar to other landing pages, be sure to test and optimize various elements of your squeeze page to continually improve conversion rates.
Easily create and implement a squeeze page at your site using WordPress, which has several plugins available. Here are a couple of links to help get you started:
Need help designing and implementing an effective squeeze page to help you grow a quality email list? Contact the team of experts at FulcrumTech and we'll show you how it's done.
Other Articles You Might Like