Are You Making the Most of Your Thank-You Pages? 12 Tips for Driving Conversions and Boosting Your ROI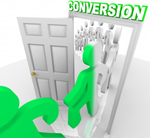 So you got a prospect to convert — perhaps by making a purchase or signing up for your email newsletter or a webinar. Good job! But be careful not to lose the momentum on your thank-you page (also called a confirmation page). Whether you're trying to close a sale, spread the word about your business, or learn more about your customers, thank-you pages are a key way to deepen the connection between a lead and your organization.
In many cases, organizations will send a simple thank-you message or confirmation to their new subscribers and customers expressing appreciation for whatever the call to action had been. But there's so much more you can do! In addition to saying "thank you" and providing details about the conversion (items purchased, a link to a white paper or webinar, etc.), there are other ways to help drive more conversions and increase your overall email-marketing return on investment (ROI).
So how can you make the most of your thank-you pages? Here are some tips:
Provide links to easily connect with your organization on social media sites, such as Twitter, Facebook, Pinterest, and LinkedIn.
Upsell or cross-sell other products. One way to do that is by including a coupon for a discount on your confirmation page.
Always be sure to include a link to your organization's website.
In the case when a purchase is made, include an email opt-in form to help grow your email list — whether it's a sign-up form for your email newsletter or simply to get discounts/promotions for your company's products.
Find out more about your new subscribers/customers by including a short and simple form on the thank-you page. For example, ask for a zip code, gender, age range, etc. This type of "progressive profiling" can help you segment your email list, send more relevant communications, and ultimately increase your email-marketing ROI.
Provide links to other relevant content on your website, such as white papers, blogs, articles, and related product information.
Suggest that subscribers/customers share an offer with their friends and colleagues, and include a link so they can easily do that.
Keep calls to action above the fold.
Be sure the tone of the thank-you page is enthusiastic, warm, and personal.
Add credibility by doing such things as having the company's CEO sign the thank-you message or including a team photo of employees.
Include testimonials about your products, company, publications, and so on. This can be an effective way to help drive conversions, especially for people who just subscribed to receive your email newsletter or promotional emails, but haven't made a purchase yet.
Don't overwhelm subscribers with too much information on your thank-you page. The only way to find out what is really working, as well as optimize to continually improve your response, is by testing various elements such as copy, design, subject lines, and calls to action.
An effectively planned and carefully designed thank-you page can be a powerful tool for upselling or cross-selling your company's products, learning more about your prospects and customers, growing your social reach, and sharing your organization's content.