Mobile Email-Marketing Best Practices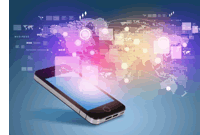 When it comes to opening and interacting with marketing emails, more and more consumers are making the switch from desktops to mobile devices. Are your organization's emails tailored with mobile users in mind? In this month's feature, we talk about best practices to ensure your mobile email-marketing efforts are having a maximum impact on your prospects and customers.
Here are some of the latest mobile and email statistics:
A recent report from the agile email-marketing technology company Movable Ink demonstrated some noteworthy trends in mobile email:
65% of emails were opened on a smartphone (48.23%) or tablet (16.52%)
Of the mobile devices used, 50% were Apple, and 14% were Android
iPhone users spent the most time viewing emails, with more than 38% of them spending more than 15 seconds
The top 10 states where users open emails using smartphones are Texas, Mississippi, Indiana, Maryland, New York, Missouri, Georgia, Pennsylvania, Illinois, and Connecticut.
Not only are consumers opening and reading marketing emails on their mobile devices, but they're also using that information to influence and make purchases from their mobile devices.
Second only to friends, company emails have the most influence over mobile purchasing decisions for both smartphone (69%) and tablet (71%) users, according to a 2013 digital publishing report from Adobe.
The value of a mobile click was shown to be nearly double that of a desktop click — $7.14 versus $3.26 in revenue per click — in a consumer online behavior report by email-marketing software provider Yesmail.
If You Haven't Optimized for Mobile, Now Is the Time
Do you know how many of your subscribers are reading your emails on mobile devices? If you're not sure, Litmus has an email analytics test that can tell you. Or, contact FulcrumTech and we'll help you answer that question.
Considering the above statistics, you likely have a lot of mobile email users. So to effectively reach your entire target market, you need be sure your emails are mobile-friendly. Here are some mobile email optimization tips to help:
Use responsive design so that your emails look great on desktops and mobile devices alike. For more information about responsive design, check out a previous NewsLever feature — "How to Use Responsive Email Design to Optimize Your ROI."
Be sure both your subject lines and preheaders are short, enticing, and complement each other. As mobile users quickly skim through their inboxes, this is the copy they'll read to determine whether the email is worth opening. So it may be beneficial to include a call to action or a promotion code in the preheader to help demonstrate the value of the email content.
Keep your content concise and scannable. Let the headlines tell your marketing story, and use boldface and bullets to help make it a quick read.
Optimize the size of your images for a faster download. If an image is too large, mobile email users may not have enough patience to wait for it to download.
Test your emails across different devices and browsers to ensure they render correctly for all of your mobile users.
Think BIG for design elements. Make sure the font size is readable — 12 pixels or larger — and that the call-to-action buttons are at least 44 x 44 pixels for easy clicking.
Consider adapting the latest mobile technologies, such as QR codes and mobile coupons and apps to help generate leads from your email marketing.
Optimize your website landing pages for mobile. Scaling down a desktop version of your website is not good enough. If you want mobile email users to convert once they've clicked through from an email, be sure that you make it easy for them with mobile-friendly landing pages that feature ample-sized print and clickable calls to action.
Mobile email users likely make up a significant portion of your target audience, so make sure you're successfully reaching them! If you need help with optimizing your email marketing for mobile prospects and customers, email the experts at FulcrumTech, or give us a call at 215-489-9336 and get started today.
Other Articles You Might Like