Part 1—What Is Predictive Marketing and How Does It Fit Into the Email-Marketing World?

Part 1—What Is Predictive Marketing and How Does It Fit Into the Email-Marketing World?
Predictive marketing is one of the top email-marketing trends in 2018. That's because it paves the way for marketers to make more data-driven decisions, which, in turn, gives a big lift to email-marketing performance, sales, and revenue. Find out what you need to know about predictive marketing—and how to effectively implement it into your email program—beginning with this first article in a 3-part series.
What Is Predictive Marketing?
Marketers, analysts, and vendors all tend to use slightly different definitions for predictive marketing. So, in terms of email-marketing analytics, how is predictive marketing defined? The following is the predictive-marketing definition used by Forrester Consulting in its 2017 report, "The Next Wave of Digital Marketing Is Predictive:"
"Predictive marketing is the use of data science, primarily driven by machine learning or artificial intelligence, to make smarter marketing decisions by predicting which marketing actions are more likely to succeed."
In other words, predictive marketing uses customer data (e.g., website browsing, email campaign analytics, and purchase behavior) to help retailers better understand customers' interests and needs, as well as their likely response to marketing content and messages.
How Is Predictive Marketing Changing the Email-Marketing Landscape?
Predictive marketing isn't new. But thanks to the availability of effective tools that can access and analyze data in real time, more of today's marketers are able to implement predictive-marketing strategies and dramatically improve their email-marketing results.
For example, Smart Insights surveyed marketers in different types of businesses around the world and asked them to select the single marketing activity that they thought would make the largest commercial impact in 2018 for their businesses. Content marketing was chosen by 20% of the respondents; however, the majority of marketers (28%) selected activities tied to predictive marketing:
14% of respondents selected "Big data (including market and customer insight and predictive analytics)"
14% of respondents selected "Artificial intelligence and machine learning."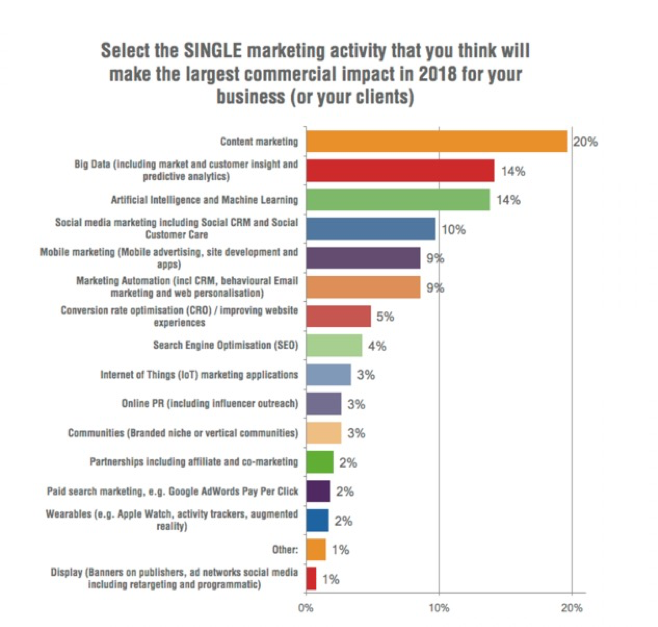 Source: Smarter Insights 10 Marketing Trends
How much of an impact will the use of predictive analytics actually have on email marketing in the near future? To help answer that question, Forrester surveyed 579 marketing decision-makers:
82% of respondents said that predictive marketing will be necessary to keep up with competitors
81% of respondents said that they will increase the use of predictive analytics to drive marketing decisions
78% of respondents said that all marketing will become predictive.
How Can Predictive Marketing Help Digital Marketers?
It's clear that more marketers today are recognizing predictive analytics as a vital strategy in marketing success. Here's what leveraging predictive technology in your email marketing can help you achieve:
Boost revenue and return on investment (ROI) by improving the personalization of your email content. Using predictive technology, you can analyze customers' past shopping trends and leverage that information to segment your email list and personalize the promotional offers sent to individual customers.
Increase brand and customer loyalty. When marketing teams invest in resources and capabilities to create personalized, 1-to-1 marketing experiences, they find that their customers appreciate it and become satisfied, repeat buyers who are loyal to the brand.
Positively affect the customer experience across the entire buying journey. Predictive-marketing solutions require a large amount of data, and those data also impact other marketing strategies (e.g., marketing-automation solutions, marketing campaign analysis for more detailed email-marketing reports). These strategies then can be used to enhance your customers' buying journey across all marketing channels, including email marketing, social media, and mobile.
The positive results associated with the use of predictive modeling in marketing are evident in Forrester's survey of digital marketers. Although marketers aren't universally using predictive-marketing technology yet, the early adopters (who have used predictive analytics in marketing for at least 2 years) reported the following benefits:
69% said that they improved the relevance and personalization in the messaging to consumers
57% said that they drove higher email-marketing conversion rates and greater ROI
53% said that they improved performance across the entire customer journey, including better brand awareness and higher conversions.
In addition, this survey also found that predictive advertising makes marketing teams more effective (81%) and efficient (80%).
What Are Some Use Cases for Predictive Marketing?
With the help of predictive analytics, you can deliver a more personalized experience to your prospects and customers. Here are a few examples of predictive-marketing use cases:
Telling you how interested a prospect or customer is likely to be in a specific promotional offer
Predicting how likely it is that a new customer will become a loyal customer as a result of certain email campaigns, product promotions, or pricing incentives
Identifying the customers with the highest potential lifetime value (e.g., those customers who will consistently spend the most money over a long period of time)
Preventing churn in your customer base by detecting the signs of dissatisfaction among customers, identifying the customers who are at greatest risk of leaving, and providing insight into the actions that you need to take to keep them happy
Determining the products to cross-sell and upsell that specific customers are most likely to buy
Providing insight for the best combination of products to recommend to target prospects and convert customers
Segmenting your email list to send messages tailored to customers' interests and needs by using predictive analytics along with automation and customer relationship management (CRM) tools.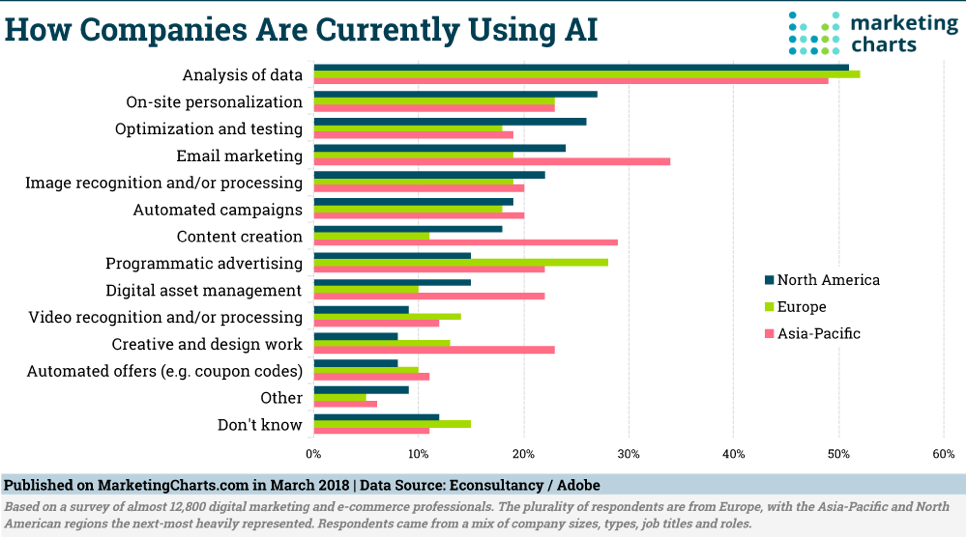 Is Predictive Marketing Easy to Implement?
Your customers' interactions with your brand are already being tracked and stored by your current marketing platform. Predictive software can be used to analyze this information to predict the actions that specific customer profiles will take and provide insight for what you need to do to create a truly personalized buying experience for consumers.
For example, predictive software can deliver targeted product recommendations through an email analysis of engagement rates (e.g., open and unique click-through rates) and past shopping behavior. These recommendations then can be delivered in such email campaigns as abandoned cart, post-purchase, and win-back.
The good news is that getting started with predictive marketing doesn't require a huge investment in sophisticated software. Plus, companies of all sizes can take advantage of predictive technology today. It wasn't long ago that only big-enterprise systems were the providers of predictive analytic solutions. Now, most marketing technology companies offer some level of predictive marketing among their products. In addition, there are software-as-a-service predictive solutions available that can integrate with your current CRM and marketing-automation platforms.
Data can uncover a lot about your prospects' and customers' buying behavior. And the better you leverage those data to understand buyer personas, the better your email-marketing campaigns will resonate with consumers and deliver a personalized buyer experience.
Be sure to watch for our next predictive-marketing article that will explore the technology involved and the email-marketing analytics that you can glean with the help of this technology.
Looking to learn more about how to best leverage predictive analytics in your email-marketing efforts? Contact the email-marketing experts at FulcrumTech and we'll evaluate where you are, where you want to be in terms of email performance and ROI, and we'll help you implement key predictive-marketing strategies to reach your business goals.
Other Articles You Might Like