How to Effectively Add YouTube Videos to Your Email-Marketing and Social Media Strategies

Want to generate more leads, grow your email list, boost email engagement, and build your brand? Adding YouTube videos to your email-marketing and social media strategies may be just the ticket.
Adding Video to Your Emails Increases Engagement
As we covered in a previous NewsLever feature, adding video to email campaigns can have a big positive impact on your email performance results. For example, here are some performance metrics from Campaign Monitor indicating the profound impact video can have in email:
Increase open rates by 19%
Boost click-through rates by 65%
Reduce unsubscribe rates by 26%.
How to Best Add Videos to Your Emails
Unfortunately, to get video to play within an email, you need subscribers to open email in HTML5-capable email clients. Many email clients still don't support HTML5; however, at least 62% of the clients do support it, according to Email on Acid. And the number of email clients that support HTML5 continues to grow.
Another way to get video to play within emails is to use tools such as Movable Ink or LiveClicker, which make your emails "smart" with respect to video. Their technology determines, upon open, if the email client supports video. If it does, the video is played; if not, a graphic with a link to play the video is presented instead.
One of the easiest-to-implement and most-effective methods for adding videos to your emails is "video upon click-through." This approach involves creating an image that includes a large play button (see image below, for example) and, thus, looks like an embedded video in your email message. When recipients click the play-button "link," a browser window opens, taking them to a site (such as YouTube) to view the video.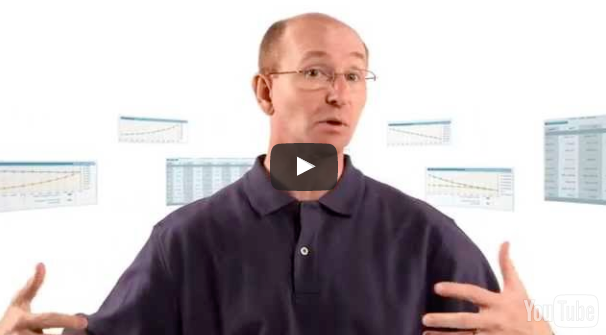 Compared to actually embedding a video in your emails, this method of adding video to your email marketing campaigns has many advantages, including:
It works in all email clients
There are no large downloads to worry about
There are no third-party technology costs
You can track the clicks.
In addition, producing content for the social media platform, YouTube, also has many benefits that can be leveraged to improve engagement with your email marketing and, ultimately, grow your business.
Here's Why YouTube Is a Good Addition to Your Email-Marketing and Social Media Strategies
Check out these impressive YouTube stats:
YouTube has more than 1 billion users, which is nearly one-third of the total number of people on the Internet.
YouTube is the third most-visited site (after Google and Facebook).
More than 30 million people visit YouTube daily.
300 hours of video are uploaded to YouTube every minute.
Each day, YouTube users watch a billion hours of video.
In an average month, 80% of 18- to 49-year-olds watch YouTube.
The number of hours people spend watching YouTube is up 60% year-over-year, which is the fastest growth seen in 2 years.
Preparing and Optimizing Your Videos on YouTube
Before integrating YouTube video into your emails, you'll want to upload and optimize your videos. Here are some tips for how to use the YouTube channel to get the most out of your email marketing with videos in terms of generating qualified leads, building brand awareness, and getting more people to sign up for your emails:
Be sure your YouTube video titles and descriptions are user-centric and provide a descriptive overview of the video content. Typically, a video description of 2 or 3 sentences in length is ideal. Frontload the most important information in both the YouTube video's title and description so that users can quickly assess the value of the video.
Use targeted keywords in your YouTube video titles and descriptions. Include as many relevant keywords in both the title and description to help people find the YouTube videos you create. Click here for a free keyword tool to help you find the words people are using to search for videos similar to yours on YouTube.
Include calls to action in your videos, video descriptions, and YouTube "About" tab. For example, calls to action could include links to your website to download something of value to your target audience, such as a white paper, to register for a free webinar, or get a coupon for a discount off a purchase.
Create and post new videos regularly. This will help ensure that your content is fresh and up-to-date, as well as to help keep your YouTube channel subscribers and fans coming back for more.
Create and add "cards" to your YouTube videos. This is an effective way to layer important text, calls to action, and links over your videos. Click here for more information about YouTube cards and how to add them to your videos.
Be sure you develop a strong introduction for your YouTube videos. This is important considering that approximately 20% of people who start videos leave after the first 10 seconds.
Consider running YouTube ads to help build both your email list and YouTube channel subscribers. You can target your YouTube ads based on a variety of demographic information, such as age, gender, and location. You can also remarket to YouTube video viewers or people who have interacted with your YouTube channel by showing them personalized ads. Click on the following links to learn more about:
Use Email to Let Your Subscribers Know About Your YouTube Videos
Once you have prepared and optimized your video, you can begin to let your subscribers know about your video communications. There are many ways to do this, but here are a few suggestions:
Incorporate the word "video" into your email subject line. For example, one study showed a 19% increase in open rates just by adding "video" to the subject line. We've seen strong improvements in open rates when using "video" in subject lines, as well.
Optimize your email campaigns with videos for mobile. Not only are a majority of people using mobile devices to read their emails today, but also more than half of YouTube views take place on mobile devices. Click here for mobile email-marketing best practices to help ensure that your email campaigns have a maximum positive impact on your prospects and customers.
Insert a YouTube icon in your emails. This will allow your email subscribers to link directly to your YouTube channel and access your videos, even if you aren't featuring a video in that email message.
Test and optimize the video thumbnails in your email templates. Test the size, location, and color of the play buttons, as well as the image used. For example, using a picture of a person instead of a product can increase click-through rates by up to 14%. You may also consider testing whether using animated GIFs (e.g., for the play button or to show a few frames of the video) helps to drive more clicks.
Be sure to check out and subscribe to FulcrumTech's YouTube channel for some great email tips and valuable information for how to get the most from your email-marketing program.
If you're looking to leverage YouTube videos and to optimize your email-marketing performance results, the experts at FulcrumTech can help! Contact us today to learn more.
---
Other Articles You Might Like